Efficient Parts Transfer through Press Hardening Applications: STROTHMANN Presentation at the EuroBLECH Exhibition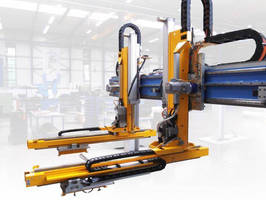 Schloss Holte-Stukenbrock, Germany – STROTHMANN will showcase an efficient transfer solution for hot forming at the EuroBLECH 2014 exhibition in Hanover/Germany, in hall 27, at stand D66. Featuring three linear axes with highly dynamic drives, the TransferFEEDER SRT 3/040 performs programmed motion sequences, reaching parts transfer times that are equaled by no robot – under two seconds have been realized. Moreover, the press does not need to be opened as wide as in a robot automation setup. The compact feeder handles two parts at once. The maximum payload including the tooling is 40 kg per side. A central lubrication system ensures minimal maintenance requirements.



In addition to seeing the TransferFEEDER perform, trade show visitors will have the opportunity to talk with STROTHMANN experts about comprehensive concepts for space-saving press line layouts and maximum throughput. The HighSpeedTransfer, for instance, enables tandem press lines to be operated at full capacity. This servo linear technology system for parts handling supports up to 16 strokes/min. Four actuated linear axes and one actuated rotating axis carry out smooth orientations. Mounted on the press frame, the technology modules are easily accessible for servicing. The drives never come between the dies. The system is based on the CompactTransfer which STROTHMANN developed for crossbar press line retrofits. A systems partner, STROTHMANN supplies suitable automatic tooling change equipment and customer-specific solutions for front of line and end of line stations.