EEC Partners with Motorsolver to Provide Electric Motor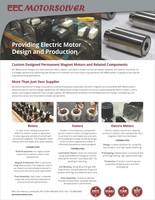 Design and Production by forming EEC Motorsolver
Lancaster, PA (September 29, 2021) – Electron Energy Corporation (EEC), a vertically integrated rare earth magnet supplier, and Motorsolver, a leader in electric machine design, announce the availability of custom designed permanent magnet motors and related components from the newly created EEC Motorsolver business unit.
By combining EEC's ability to produce customized rare earth magnets and assemblies with Motorsolver's advanced electric machine design capabilities, EEC Motorsolver allows customers to source custom designed electric motors, rotors, stators, and magnet materials from a single supplier. As companies develop new motor designs or bring existing designs in-house, demand for electric motors is growing at a rapid rate. EEC Motorsolver provides a consolidated source of design, prototyping, and production across all critical electric motor components. This enables an easy exchange of design requirements to a single supplier to reduce development timelines.
"We saw an opportunity to combine the capabilities of these two companies to deliver electric motor solutions to customers needing a high degree of customization and development support," says Scott Murr, the Director of Business Development at EEC Motorsolver. As the only remaining SmCo producer in North America, EEC is a leading supplier of permanent magnet solutions for aerospace, defense, and medical markets. Motorsolver's founder Jim Hendershot states that, "The electrification of everything has created a need for a fully integrated supplier that can work one-on-one with companies to develop customized electric motors and sub-components." EEC Motorsolver operations will be located at Electron Energy Corporation's facility in Lancaster, PA.
For more information, please visit www.eecmotorsolver.com.
Contact:
Scott Murr
EEC Motorsolver
Phone: +1-717-459-1001
Email: smurr@electronenergy.com