Edwards' SAPIEN 3 Ultra Transcatheter Heart Valve Receives FDA Approval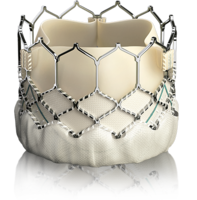 Irvine, Calif., Dec. 28, 2018 /PRNewswire/ -- Edwards Lifesciences Corporation (NYSE: EW), the global leader in patient-focused innovations for structural heart disease and critical care monitoring, today announced that the SAPIEN 3 Ultra system has received U.S. Food and Drug Administration (FDA) approval for transcatheter aortic valve replacement in severe, symptomatic aortic stenosis patients who are determined to be at intermediate or greater risk of open-heart surgery.
"The advanced SAPIEN 3 Ultra system features enhancements on the valve and a new delivery system to address the needs of both patients and clinicians, building on our best-in-class performance of SAPIEN 3 to further advance and improve patient care," said Larry L. Wood, Edwards' corporate vice president, transcatheter heart valves. "We look forward to introducing the SAPIEN 3 Ultra system to U.S. patients."
The SAPIEN 3 Ultra system builds on Edwards' decades of engineering and experience in the development of tissue heart valves, and the proven benefits of the Edwards SAPIEN valves.
"The Edwards SAPIEN 3 Ultra system provides meaningful technology improvements that help further optimize the transcatheter aortic valve replacement procedure, adding simplicity and advancing patient care," said John Webb, M.D., director of interventional cardiology and cardiac catheterization laboratories at St. Paul's Hospital, Vancouver, and professor of cardiology at the University of British Columbia.
Dr. Webb is a consultant to Edwards Lifesciences.
About Edwards Lifesciences
Edwards Lifesciences, based in Irvine, Calif., is the global leader in patient-focused medical innovations for structural heart disease, as well as critical care and surgical monitoring. Driven by a passion to help patients, the company collaborates with the world's leading clinicians and researchers to address unmet healthcare needs, working to improve patient outcomes and enhance lives. For more information, visit www.Edwards.com and follow us on Twitter @EdwardsLifesci.
Contact: Media, Heather Bukant, 949-250-5070, or Investors, David K. Erickson, 949-250-6826, both of Edwards Lifesciences Corporation
More from Thermal & Heating Equipment