EcReCon Announces New Inventory of Process Equipment from a Food Manufacturing Plant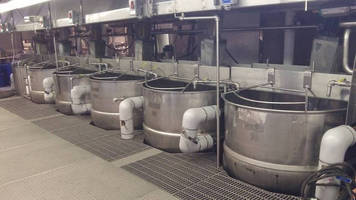 Ecrecon, Inc. has added new inventory of equipment from a food manufacturing plant. The equipment available includes two 100 gallon Liquefiers and two 200 gallon Liquefiers, one 850 Gallon stainless steel Double Ribbon Blender, 55 Gallon Stainless Steel drums, several 350 Gallon Jacketed Kettles, 350 and 600 Gallon GROEN Jacketed, Double Motion Agitators, a 2000 Gallon Sanitary Mix Tank with Lightnin Mixer, a 5000 Gallon Crepaco Vertical Sanitary Storage Tank. In addition there are several pumps including a Wilden Sanitary Air Diaphragm pump, several Waukesha Size 130 pumps, two Waukesha Size 220 pumps, a Waukesha Size 224 pump, and a G&H Model GHPD-732P pump.

Please view our website for more information on this inventory www.ecrecon.com/Usedkettleslikwifierswaukeshapumps/ as well as our other products including blenders, boilers, centrifuges, columns, compressors, coolers, conveyors, chillers, dryers, dust collectors, feeders, filters, gear boxes, generators, heat exchangers, heaters, mills/grinders, mixers, motors, pumps, reactors, tanks, turbines and vessels.

EcReCon, Inc. buys and sells Surplus and Used Process Equipment from Individual items to complete plants for the Chemical, Pharmaceutical, Petrochemical, Refining, Plastics and Food Process Industries. Our Inventory changes almost daily; For more information please visit our website www.ecrecon.com or call (856) 299-4500.


More from Software