DuraSurf(TM) STS Ultra Low-friction UHMW for Slider Beds and Sidepans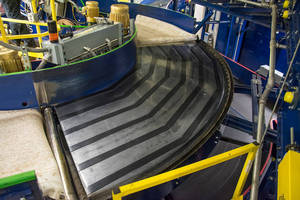 DuraSurf™ STS is a UHMW product that ships in a continuous roll. This innovative, ultra low-friction product can reduce energy consumption, protect slider beds, and extend belt life.



The package handling industry, specifically baggage transport, is incredibly abrasive. Heavy conveyed materials and belt lacing cause continuous high-friction contact on sidewalls and slider beds during operation. This can dramatically reduce belt life and increase wear and tear on slider beds. DuraSurf™ STS is the perfect solution to these common issues. DuraSurf™ STS is a UHMW-PE product that is applied directly to the slider bed or sidewall to provide a virtually maintenance free, low-friction surface for belts and conveyed materials to glide on.



DuraSurf™ STS protects slider beds, reduces maintenance time, provides energy savings, dramatically extends belt life, improves package flow, and cuts down static electricity. DuraSurf™ STS provides these cost-effective benefits and is easily installed with no special tools needed.



More from Electrical Equipment & Systems