Dura Supreme's Base Recycling Centers Now Include Touch Latch with Soft-close as Standard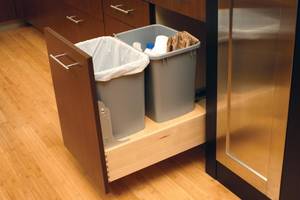 Howard Lake, MN: Dura Supreme's Base Recycling Centers (BRC) now include a Touch Latch (with Soft-Close) as standard. With a nudge from the knee or fingertips, the BRC will automatically open. The BRC is quite possibly the most used and abused cabinet in an entire kitchen. Not only is it opened and closed multiple times a day, but it is also frequently used with wet hands full of vegetable peelings and meat wrappers.
Frequent exposure to moisture is not optimal for wood cabinetry. The inclusion of Touch-Latch hardware will help minimize ongoing handling, wear and tear to the finish extending the life of the cabinet. Dura Supreme offers a Servo-Drive (powered) option for the BRC as well. With Servo-Drive, the electronic drive mechanism opens the door with just a touch.
According to Karen Wistrom, ASID, NCIDQ, CMG, Vice President of Sales & Marketing for Dura Supreme, "We believe a kitchen should last a lifetime. Adding the Touch Latch as a standard for all Base Recycling Centers may seem like a small addition to some. But at Dura Supreme, any opportunity to decrease the daily wear and tear and prolong the lifespan of the kitchen is a big deal." She goes on to explain, "It's a simple, clean solution to a messy problem!"
About Dura Supreme Cabinetry
Located in Howard Lake, Minnesota, Dura Supreme manufactures semi-custom and custom, framed and frameless cabinetry for a nationwide network of dealers. For 60+ years homeowners and designers have looked to Dura Supreme for kitchen and bath cabinetry that fulfills their desire for personalized design choices and outstanding quality of construction. To learn more about Dura Supreme or to contact an authorized Dura Supreme cabinetry dealer visit www.durasupreme.com.
Media Contact:
Mandi Juskiewicz
Marketing Communications Coordinator for Dura Supreme Cabinetry
Phone: (888) 711-3872 Ext. 4542
Fax: (320) 543-4591
Email: marketing@durasupreme.com 
300 Dura Drive, Howard Lake, MN 55349
More from Explosives, Armaments, and Weaponry