Dortronics' Electric Strikes Receive UL Listing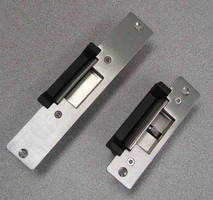 3300 Series Now UL Listed As Burglary Resistant Electric Strike.

Anaheim, CA (September 21, 2009) - The Dortronics 3300 Series Electric Strikes were tested to withstand a 1,000 lb. pull test, run through 250,000 cycles and are now UL Listed Burglary Resistant Electric Strikes. On display at ASIS 2009, the popular series is compatible with most aluminum door frame cutouts and is suitable for most wood and hollow metal door frames. The 3300 Series Electric Strikes come complete with an ANSI strike plate for hollow metal door frames or with a 9-inch-tall strike plate for installation on wood door frames. Both styles can accommodate a deep door latch keeper.

"UL compliance broadens the range of applications for the 3300 Series Electric Strikes," said Bryan Sanderford, National Sales Manager, Dortronics Systems, Inc. "The design of the 3300 Series is a great combination of strength, dependability and cost efficiency, and with the UL mark it also meets mandated compliance for numerous installations."

Built with a stainless steel jaw and strike plate to hold tight with a 1,000 lb. pull test rating, Dortronics' 3300 Series Electric Strikes convert from fail-secure (the door is locked in case of a power failure) to fail-safe operation (the door is open in case of a power failure) without the need for special tools. Additionally, input power from 12 to 24V DC is field selectable to meet most voltage requirements. For added functionality, an optional latch bolt monitoring switch provides status and facilitates use in access control systems.

For more information on Dortronics' extensive line of access control products call toll free 1-800-906-0137, e-mail sales@dortronics.com or visit their web site www.dortronics.com.

About Dortronics Systems, Inc.
Dortronics Systems, Inc. is the industry's "quick-ship" supplier of standard and custom finish access control products including electromagnetic locks; electronic strikes; power supplies; key switch controls; pushbutton controls; digital keypad controls; delayed egress controls; alarm annunciation controls; high security locks; egress bar door releases; emergency pull stations; and access control applications for smaller installations.

More from Software