DMP CellComSL Wins Top Award at ESX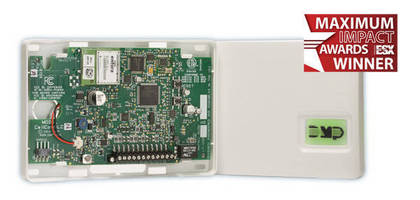 Recognized as best alarm signal transmission equipment



DMP took home the top award in the Alarm Signal Transmission Equipment Category for its recently released CellComSL Universal Alarm Communicator. The award recognizes the business impact of a product or service rather than just its features and functions. The award was presented June 25 at the ESX Electronic Security Expo in Nashville.



"We are proud of every DMP technology innovation, but even more so to have our CellComSL receive this industry recognition," said Vice President of Sales, Mark NeSmith. "The CellComSL is a remarkable product with features that both dealers and end users will really benefit from. We are pleased that the industry recognizes that it will truly have an impact in the market."



The DMP CellComSL provides a fully supervised alarm communication path over the CDMA network. The primary function of this cellular unit is to provide alarm dealers with a solution to update existing panels whether in need of upgraded cell network or new lifestyle features for that older panel. Dealers don't have to worry about locked panels; their installers can just add the DMP CellComSL unit onto the existing 'dialer' installations and with Contact-ID dialer capture immediately get full alarm communication directly into your DMP recievers. Not only can dealers add updated cellular connection but they can also add Lifestyle features like Z-Wave lights, locks & thermostat control along with video all controlled from an App or text messaging.



This product is a great way to allow end-users with older panels to benefit from new technology that enables App control with the DMP Virtual Keypad App. Users will now be able to perform basic arming/disarming functions, as well as have the ability to add z-wave control of lights, locks and thermostats and cameras, all from their phone.  It's a win-win for dealers and end-users because existing systems do not have to be ripped out, but new features can be introduced with minimal equipment additions and cost.



This product is an RMR machine for monitoring companies wanting to grow their revenues. Having the ability to add App control, and then specifically Z-wave and Cameras adds to the monthly revenue stream considerably. This powerful revenue generating product is a no brainer for increasing revenue and increasing the value of monthly accounts.



Maximum Impact Awards is one of the only awards program in the security industry that honors the impact new and recently introduced products and services have on security integration and monitoring companies. 



Questions?  Please contact DMP Inside Sales at 800-641-4282 or at InsideSales@dmp.com.



Copyright © 2014 Digital Monitoring Products, Inc., All rights reserved.

Visit us at www.dmp.com.



More from Materials