Automated Storage/Retrieval Systems (AS/RS)
Discover Europlacer's SMT Pick-and-Place Platforms at APEX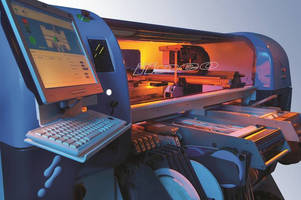 Tampa, FL — Europlacer, a manufacturer of market-leading flexible SMT placement machines, announces that it will showcase the iineo II SMT pick-and-place platform in Booth #901 at the 2015 IPC APEX EXPO, scheduled to take place Feb. 24–26, 2015 at the San Diego Convention Center.



The award-winning iineo II is widely configurable for numerous requirements. The platform offers the industry's largest board size (24" W x 63"L) along with expansive feeder capacity up to 264 x 8 mm + trays. With two placement heads, 24 nozzles, odd-form capability and enough capacity for a broad range of presentation media including tape and reel, trays, tubes, cut tapes and POP, the iineo II can be employed to achieve optimal production efficiency on complex boards and higher volumes, with ease. Europlacer will be demonstrating their new ii-Feed system, which highlights a 15 second unit load-time, along with sub-$300 unit price for fully 'intelligent' assembly planning and production.



Additionally, company representatives will showcase the iineo I and XPii-IIT SMT pick-and-place platforms along with the LZERO3 Automatic Storage Tower and EP710 Automatic Screen Printer with EP covers. For more information, schedule a meeting with company representatives in Booth #901 at the IPC APEX EXPO or visit www.europlacer.com.



About Europlacer

Europlacer became a division of Parable Trust Ltd. in 2013. Europlacer has been developing machines for SMT electronics assembly since the 1970s and invented the intelligent feeder concept in the 1980s. After acquisition by Blakell Europlacer in 1991, the company moved away from split-axis to the inherently more capable X-Y architecture that underpins the company's pick-and-place machines today. Europlacer's policy has been to ensure wherever possible that technology purchased many years ago, especially feeders, remain compatible with the latest pick-and-place equipment. Europlacer designs and manufactures a comprehensive range of highly flexible SMT pick-and-place systems for the global electronics industry. For more information, visit Europlacer's Web site at www.europlacer.com.

More from Material Processing