Disc-Lock Hosts Shear Wrench and Tension Control Bolt Seminar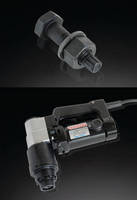 Culver City, Calif. - DISC-LOCK hosted a seminar featuring their new product line of Tension Control Bolts and Shear Wrench in Campbellville, Ontario, Canada.

DISC-LOCK International is hosting an on-going series of seminars to showcase the latest technology regarding their vibration-proof line of fastening solutions for industry and construction. The new DISC-LOCK manufactured shear wrench and fastening system was featured (consisting of a Heavy Hex DISC-LOCK Nut and a Tension Control Bolt) which is an easy to install, vibration resistant fastening system used to secure parts that are subject to stress or shock.

"With the explosive growth of our business due to our exclusive technology, we are finding it necessary to reach out and educate our existing and potential new customers," said Alistair McKinlay, Chairman of DISC-LOCK International. "Our product line of vibration-proof fasteners spans many different industries and disciplines and it is our job to ensure that customers know the complete potential of our products," added McKinlay.

"We will offer our seminars as an on-going, educational series, to all relevant industries including the construction industry, pre-fabricated buildings, structural engineering, metal fabricating, wind power, solar power and oil and gas" said Greg White, Vice President of DISC-LOCK International.

If you are interested in attending a DISC-LOCK Technology Seminar Series, or have a special educational need regarding our products, please contact us at (310) 944-9352 to arrange a meeting.

About DISC-LOCK International

DISC-LOCK International, headquartered in Culver City, Calif., manufactures a complete range of safety fastening solutions for transportation, industry and the military including trucks, trailers, buses and wind turbines and towers. DISC-LOCK products include; Safety Wheel Nut, Vibration Proof Locking Nut, Truck Frame Fastening System, Rail Car Fastening System, Armor Fastening System, Shear Wrench, Tension Control Bolt, Hex Head Bolt and Locking Washers. Established in 1980, DISC-LOCK International distributes to all 50 states in the U.S. and 31 countries worldwide. DISC-LOCK is a minority-owned business.


More from Optics & Photonics