DEUBLIN SpindleShield(TM) Unions for CNC Machining Centers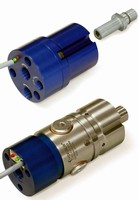 WAUKEGAN, IL-JULY 22, 2008-DEUBLIN Company announces SpindleShield(TM) technology for use with the most sophisticated CNC machines. DEUBLIN coolant unions with SpindleShield(TM) employ a unique patent-pending electronic leak detection system that detects coolant problems and allows for rapid machine shutdown.

Machining centers with through-coolant spindles require coolant unions to deliver coolant at high pressures through the cutting tool at the cutting surface. For dry running cycles or machining operations with multi-media such as air, MQL or coolant, DEUBLIN offers coolant unions with patented Pop-Off(TM) and patent-pending AutoSense(TM), a technology that separates the seals in the absence of coolant and allow indefinite dry run or multi-media capabilities. During each cycle from one mode to the other, a minute amount of coolant spills out, which must be collected and drained. Excessive leakage, if not detected, may leak past the spindle seals and eventually contaminate and damage the spindle bearings.

DEUBLIN introduces SpindleShield(TM), an industry first and revolutionary new technology for CNC machining centers. SpindleShield(TM) protects the spindle and prevents replacement of spindle bearings by allowing rapid, automatic shutdown of machines. The combination of remote diagnostics and a positive leak detection system virtually eliminate unnecessary preventative maintenance and costly spindle repair. This technology can be easily integrated into any standard system bus.


More from Agricultural & Farming Products