David Cameron Sees World-Beating Polishing Technology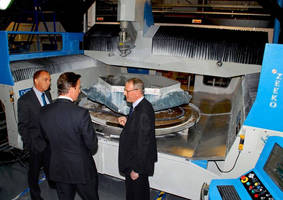 On a recent visit to OpTIC Glyndŵr in St Asaph, North Wales, Prime Minister David Cameron was particularly interested to see one of the world's largest and most advanced polishing machines in action. Designed and manufactured by British company, Zeeko, it was producing mirror segments for what will be the biggest ever optical telescope, the European extra-large telescope (E-ELT).

To be built in Cerro Armazones, Chile, the Euros1 billion optical/infrared instrument is regarded as the biggest revolution in astronomy for 400 years and is scheduled to be operational by 2018. It will look at galaxies created immediately after the Big Bang and will also be able to see planets orbiting stars other than our own sun. Further information is available at: http://www.eso.org/public/teles-instr/e-elt.html

The OpTIC centre, a commercial enterprise within Glyndŵr University that develops new processes and products, has completed an initial E-ELT prototype production phase and is now polishing seven hexagonal mirror segments for the telescope itself. When built, the telescope will weigh 5,000 tonnes, measure 42 metres across and comprise 984 glass segments of approximately 2.5 sq m each. In addition, 164 spare mirror segments will be made to facilitate maintenance and coating, making a total of 1,148 segments. If volume production eventually goes ahead, hundreds of new jobs will be created in North Wales.

Family-owned polishing and metrology equipment manufacturer, Zeeko, based in Coalville, has a research facility within OpTIC. Zeeko co-founder and Director of Research, Professor David Walker, a professor at Glyndŵr University and also at UCL, is leading Zeeko's E-ELT project work in the UK.

The Zeeko optic fabrication centre, which won the Queen's Awards for Innovation this year, is based on the company's IRP 1600 corrective polishing machine platform and includes integrated measuring. The benefit of combining the two functions is that each delicate, precision component remains fixed during the production process, avoiding the risk of damaging the optic by repeatedly transferring it between the polisher and a measuring station.

Two photographs herewith:

1. Prime Minister David Cameron (centre) at OpTIC Glyndŵr in front of the Zeeko IRP 1200 fabrication centre. Zeeko's Process Development Engineer, Willhelmus Messelink, is pictured left and on the right is Zeeko's Director of Research, Prof. David Walker.

2. Prime Minister David Cameron (centre) at OpTIC Glyndŵr in front of the Zeeko fabrication centre used to polish mirror segments for the E-ELT. Qioptiq (consortium partner) Manager of Special Projects, Dave Price, is pictured right and on the left is Nick Bourne, former Leader of the Welsh Conservatives.

On behalf of: ZEEKO Ltd, Unit 4, Vulcan Court, Hermitage Industrial

Estate, Coalville, Leicestershire, LE67 3FW, UK.

Tel: +44 1530 815832. Fax: +44 1530 839631.

E-mail: avni.sondagar@zeeko.co.uk

Web site: www.zeeko.co.uk

Press contact: Avni Sondagar, Marketing Assistant.

Issued by: THE RIGHT IMAGE Ltd,

PO Box 42, Twickenham, TW1 1BQ, UK.

Tel: +44 20 8891 0603.

Mob: +44 7789 274817.

E-mail: therightimage@aol.com
Contact: Chris Wright.

More from Material Processing