Danish Condominium Improves Security with Iqinvision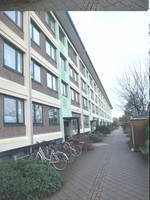 San Juan Capistrano, Ca and Copenhagen, Denmark – Ellemarken Condominiums, located in Køge, Denmark, have deployed a combined Iqinvision and Milestone IP video surveillance system to improve safety and reduce vandalism. Denmark-based, value added integrator Smartguard was in charge of project installation.



The Ellemarken complex, situated in Køge, Denmark, 45 miles southwest of Copenhagen, is comprised of more than 1,125 one, two, three, and four bedroom units. The condominium's management sought to improve overall security at the complex, prevent break-ins and theft, reduce graffiti, and most importantly, prevent unauthorised persons from entering buildings through each building's stairwell entrances.



Ellemarken management decided that the Iqinvision products would provide the best value for the money, based on picture quality, price comparison, and the company's 5-year warranty.



The housing development has deployed 248 Iqeye cameras throughout all its buildings, locating them in every stairwell entrance. The majority of the cameras are Iqeye Alliance-mx models. Video is recorded at 8 frames per second and is viewed mainly for post-incident investigation. All camera data is managed by Milestone Xprotect Corporate IP video management software (VMS), designed for large-scale, high-security deployments.



Since the cameras have been installed, according to Iqinvision, Ellemarken management has noticed a significant reduction in the number of security incidents. Several crimes have already been solved using video evidence and with the large decrease in the number of crimes and other expensive incidents, management is confident their expenditure on the higher quality Iqeye cameras will achieve a full return on investment within two years.

More from Sensors, Monitors & Transducers