Danfoss to Present Efficient, Reliable and Connected Food Service Solutions at the NAFEM Show 2019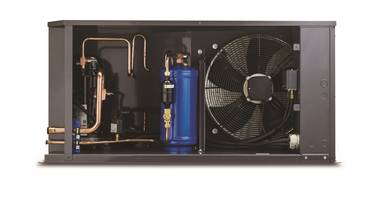 Product innovations support trend towards lower GWP refrigerants and connected cooling
At The NAFEM Show—February 7–9, 2019—Danfoss Commercial Refrigeration experts will present a broad range of solutions for walk-in coolers and food service equipment. Visit Danfoss' Booth 212 to experience interactive modules that present cloud-based services for 24/7 cooling system management and monitoring, as well as high-efficiency and low-GWP refrigerant-compatible products such as Optyma™ Slim condensing units, R290 variable speed compressors and controllers that enable end-users and OEMs to increase energy efficiency and system performance, improve food safety, and reduce their carbon footprint.
Connected cooling
Especially pertinent for the food and beverage industry, Danfoss will demonstrate the end-to-end Prosa IoT and cloud solution that enables remote monitoring, diagnostics, marketing, and sales analysis of merchandising equipment.
Danfoss will also present solutions for remote walk-in cooler monitoring that help to reduce product loss due to temperature changes or system failures while complying with food storage regulations. With a Prosa telemetry device connected to Danfoss temperature sensors, users can monitor their system in real-time via smartphone, tablet, or a web portal. 
Focus on food safety
Food safety is a top priority for consumers and Danfoss makes it more affordable for restaurant and store owners and operators. Restaurants rely on flawless equipment operation for optimal food safety, regardless of ambient temperatures or load conditions. Optimized control of refrigerators and freezers, without compromising food safety, can save up to 33% on energy consumption. No two businesses are the same, but with the wide range of high-quality Danfoss products—including compressors, TXVs, solenoid valves, and system protection components such as ELIMINATOR® filter driers, sight glasses and ACB pressure switches—restaurants can achieve the flexibility needed for the most reliable and energyefficient solutions possible.
Energy-efficient walk-in coolers and GDMs
To reduce the cost of energy consumed by restaurants and convenience stores, Danfoss offers the Optyma™ Slim line of condensing units. This outdoor condensing unit is an optimized combination of efficiency, reliability, easy installation, and sound performance. Built to reduce installation and maintenance costs, the Optyma Slim's smart design and component integration save valuable time and money with minimal impact on the environment.
Danfoss also offers solutions for self-contained glass door merchandisers (GDMs), including TXVs, electronic refrigeration controllers and variable speed compressors. Combined together, customers can achieve energy savings of up to 60%.
Meeting changing regulations
With local, state, and federal regulations growing ever stricter, Danfoss' portfolio of products and solutions compatible with low-GWP refrigerants, including blends and natural refrigerants like CO₂ and hydrocarbons, continues to expand. To learn more about these products first-hand, visit Booth 212 at The NAFEM Show February 7–9, 2019.
Media contact:
Lisa Tryson, Director, Corporate Communications & PR – Email: LisaTryson@Danfoss.com, Phone: +1 410 513 1142
Related links: 
http://ra.danfoss.us
Danfoss engineers advanced technologies that enable us to build a better, smarter and more efficient tomorrow. In the world's growing cities, we ensure the supply of fresh food and optimal comfort in our homes and offices, while meeting the need for energy-efficient infrastructure, connected systems and integrated renewable energy. Our solutions are used in areas such as refrigeration, air conditioning, heating, motor control and mobile machinery. Our innovative engineering dates back to 1933 and today Danfoss holds market-leading positions, employing 27,000 and serving customers in more than 100 countries. We are privately held by the founding family. Read more about us at www.danfoss.com.
More from Electrical Equipment & Systems