D-Link Ethernet Surge Protectors Beat Competitors in Surge Test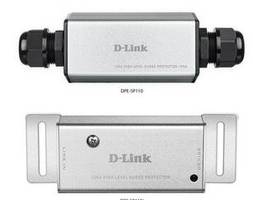 DPE-SP110 and DPE-SP110I surge protectors are the only devices out of 11 total from various manufacturers to pass the surge test conducted by Nlightning Technology
FOUNTAIN VALLEY, Calif., Nov. 8, 2018 /PRNewswire/ -- Out of 11 total devices surge tested by Nlightning Technology, the D-Link DPE-SP110 and DPE-SP110I surge protectors were the only ones to pass the IEC 61643-21 and ITU-T K.21 tests, D-Link announced today. All of the other surge protectors failed to protect the networking equipment from electrical damage, proving the D-Link surge protectors' effectiveness in preventing damage caused by sudden electrical surges and electrostatic discharges.
"A surge protector's main job is to protect both the networking equipment and remote devices connected to it," said Steven Olen, director of product marketing, D-Link Systems.  "If it can't do that, then every device connected to it either directly or indirectly is at risk of damage."
According to Nlightning Technology, lightning strikes caused approximately $740 million dollars worth of damage in 2014, and lightning can affect devices as far away as 300 miles from the initial strike.
The outdoor DPE-SP110 and indoor DPE-SP110I can provide powerful protection for switches, IP cameras, access points and other networking devices, as they can ensure continuous, non-interrupted service and reduced downtime and maintenance costs—even in harsh environments. Both use a durable metal design and feature 10kA Impulse Discharge Current to help ensure stable protection.
Media Links
For Nlightning Technologies testing video, click here.
For D-Link surge protector images, click here.
Availability and Pricing
The DPE-SP110 Ethernet Surge Protector is available for purchase from any of D-Link's resellers and distributors. The DPE-SP110I will be available in early November.
About D-Link
D-Link is the global leader in connectivity for home, small business, mid- to large-sized enterprise environments, and service providers. An award-winning designer, developer, and manufacturer, D-Link implements and supports unified network solutions that integrate capabilities in switching, wireless, broadband, IP Surveillance, and cloud-based network management. For more information visit us.dlink.com, or connect with D-Link on Facebook, Twitter and D-Link's Blog.
CONTACT: Oscar Reyes, D-Link Systems, Inc., 714.885.6226, oscar.reyes@dlink.com, Shane Remer, D-Link Systems, Inc., 714.885.6230, shane.remer@dlink.com
Web Site: http://us.dlink.com
More from Electrical Equipment & Systems