Cybathlon 2020 Goes Virtual, Coordinating Live Team Competition from 20 Countries with TVU Networks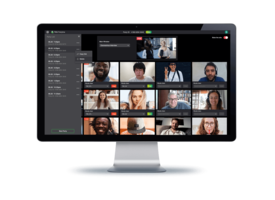 MOUNTAIN VIEW, CA – December 17, 2020 – Fifty-one teams from 20 countries competed in Cybathlon 2020 Global Edition, a series of races in which people with disabilities used exoskeletons, brain-computer interfaces, and other state-of-the-art assistance systems to complete everyday tasks. This year, teams were unable to gather in Zurich, Switzerland, due to COVID-19 restrictions, and instead opted for TVU Networks remote production solutions – including TVU One mobile transmitters, the TVU Anywhere mobile broadcasting app, and the TVU Partyline collaborative platform – which helped teams provide multi-camera video from around the world to create a live streaming event.
"We were challenged by the Cybathlon organization to produce a completely remote version of what is usually an in-person competition. The goal was to find a solution that could transmit high-quality live video over the internet from multiple locations around the world," explained Thomas Stäubli, CEO of BBM Productions, whose team produced nine hours of live streaming content. "TVU was able to seamlessly combine live footage from professional cameras and camera phones into the same production."
The production used a mix of footage from TVU One mobile transmitters and the TVU Anywhere app. Before the competition, BBM Productions helped teams configure their mobile phones to deliver the best quality signal using TVU Anywhere.
"Most challenging was that we were collaborating with teams that were not familiar with broadcast or streaming technology," Stäubli said. "We had to deal with teams from all over the world in many different time zones and with limited prep time, which created a lot of challenges. The flexibility of the TVU system gave us the freedom to do this."
TVU systems and support were provided to Cybathlon participants by Videolink, a systems integrator headquartered near Zurich. Coordinating the live feeds from competing teams was simplified using TVU Command Center, a cloud-based management platform that remotely controls and monitors all live transmissions. Five BBM operators managed the event, with one assigned to the TVU Command Center while the other four coordinated live streaming efforts with the competing teams.
"The GUI from the Command Center is great. It provided a complete overview of the production at all times, which made it easier to manage so many video feeds from so many different locations," Stäubli said. "The TVU system delivered all the video sources directly to the SDI outputs of the receivers, so we could switch the live production like any other show."
Now in its sixth generation, the TVU One mobile transmitter can transmit live, up to 4K HDR 60p signal video from any location by aggregating all available data connections, including 5G, cellular, WiFi, Ethernet and satellite with sub-second latency. The TVU Anywhere remote production app allows any smart device to transmit full-HD video, up to 1080p for live streaming. A collaborative solution for TVU Producer, TVU Partyline offers a familiar videoconferencing interface that allows content creators to move beyond traditional studio-based workflows, with real-time interaction between talent, crew, and external content contributors.
About TVU Networks®
TVU Networks is a global organization with more than 3,000 customers using its IP and cloud-based workflow solutions across multiple industries including news, entertainment media, sports, corporate, streaming, houses of worship and government. Through the use of AI and automation driven technology, TVU helps broadcasters realize an efficient metadata and story-centric workflow through its TVU MediaMind platform for live video content acquisition, indexing, production, distribution and management. The company has been on the forefront of developing the tools needed to revolutionize and streamline the Media Supply Chain. TVU is a critical part of the operations of many major media companies worldwide and is a Technology and Engineering Emmy® Award winner.
Related