CX-Series Breaker UL489 Listed to 50A 205/410VDC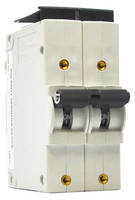 Innovative Design. Maximum Circuit Protection.



The best in class, hydraulic magnetic CX-Series circuit breaker features an innovative arc quenching design that allows the breaker to handle high amperage and high DC voltage applications. Its latest UL 489 approvals to 50A, 205/410VDC allows the CX-Series to meet all current requirements for power distribution equipment.



Features:



UL 489 Listed.

UL 489B Listed.

TUV Certified IEC/EN 60947-2.

Temperature stable hydraulic/magnetic overcurrent sensing technology.

Optional relay trip circuit, permitting remote operator system shut down.





Applications:



Perfect fit for 380VDC applications

UL 489 Listed and ideal for integration into Information Technologies' power distribution equipment utilizing high DC voltage input.

UL 489B Listed and ideal for integration into the combiner box or main disconnect of photovoltaic renewable energy systems.


More from Architectural & Civil Engineering Products