Custom Orifices in Standard Plastic and Metal Fittings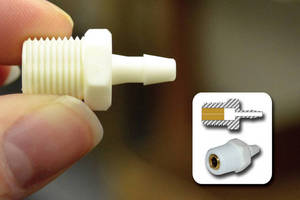 Englewood, CO – Industrial Specialties Mfg., (ISM) has long been in the custom fittings business for both assemblies and orifices. New upgrades in technology however, have recently simplified the ISM processes to customize these types of products, typically with quick production turn-around and delivery. "With an increased number of staff in our production department and new 3D CAD capabilities, customizing fittings has become an efficient process for us," says company president James Davis.



Orifices control flow and speed of the air or liquid which passes through the fitting. ISM makes custom orifices that have been found to be beneficial to many engineers and OEM's. These individuals are able to design a product using standard size fittings without having to compromise on proper flow objectives.



While many orifice types are available, some commonly inserted orifices include:

• Ruby

• Sapphire

• Brass

• Stainless Steel

• Polysulfone

• Polycarbonate



For examples of custom orifice fittings developed by Industrial Specialties Mfg., Call 800-781-8487 or fill out a Quick Quote on their website www.industrialspec.com.

More from Electronic Components & Devices