Crystal Windows Announces New Louver Panel System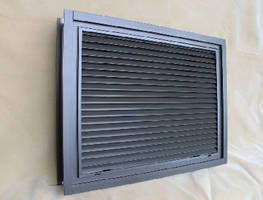 - Integrated PTAC Louver Custom-Fitted to Window for Enhanced Weather Protection and Energy Efficiency-

FLUSHING, NY, - The award-winning national manufacturer Crystal Window & Door Systems, in partnership with a leading louver manufacturer, is pleased to offer a new industry-leading window louver panel option. The new Crystal window louver system developed with WinTech of Monnet, MO, offers enhanced aesthetics, exact color matching, greatly improved resistance to water penetration, better energy efficiency and simplified installation over standard louver panels. The new louver system option is available with Crystal's most popular aluminum fixed/picture window models and can be used for either replacement or new construction projects.

Window louver panel systems are usually used to provide venting to the outdoors for individual Packaged Terminal Air Conditioning (PTAC) units installed in buildings. With current louver systems, on-site installers typically need to first install a special fixed/picture window outfitted with an insulated panel instead of a glazed glass unit. Then an opening must be cut into the insulated panel for the louvered vent to be put in place and connected to the PTAC unit. This operation is time consuming and results in a system with numerous connection joints, which may compromise weather resistance and energy efficiency. With their mix of louvered and blank insulated panels, current standard louver systems are also not particularly attractive on a building façade.

The new Crystal louver system changes all that. The Crystal-WinTech louver design features on the interior side an integrated vent opening surrounded by special aluminum clad insulating material while the exterior is covered by a full window opening louvered panel. A variety of vent opening receptors assures the louver's exact match to all PTAC brands and models. This provides an aesthetically pleasing exterior look while simultaneously enhancing the system's energy efficiency. Because the new louver system is ordered from the factory as a single combined louver vent and insulated panel window system, it eliminates the field work to cut the insulated panel and fit it with a louvered vent.

"Crystal and WinTech collaborated in the engineering design effort for this new system to bring substantial improvements and benefits for building construction, renovation and operation," noted Rizaldy Espinosa, Crystal R&D Manager. "The new louver system seamlessly meshes Crystal's most popular aluminum fixed/picture windows with the WinTech louver panels to exactly match one another. The louver panel now integrates with the picture window sash and frame to create a combined internal weep pathway which channels rainwater down to the outside and prevents it from penetrating to the interior." Water leakage is an all-too-common problem with current PTAC louvers, especially in high-rise buildings.

The new Crystal louver system is an option on its Series 2100, 6100, 8100 and new 5100 fixed/picture aluminum windows and is available in all stock, standard and special colors offered by Crystal. The louvers receive the same AAMA 2604 powder coat paint finish that is standard on all Crystal aluminum windows for durability and exact color matching.

PTAC units requiring a window installed louver system are commonly used in multi-room, multi-story buildings with many individually controlled HVAC spaces. Typical building applications include hotels/motels, offices, condo apartments, dormitories, hospitals, nursing homes, assisted living facilities and academic buildings.

Fenestration installation firms, architects, construction professionals and property managers interested in the new Crystal louver panel system should contact their Crystal sales representatives for more information.

Crystal Window & Door Systems is one of the top 40 manufacturers in North America of replacement and new construction vinyl and aluminum window and door products and high-end fenestration systems. Crystal offers a full product line, rapid order-to-delivery times, quality workmanship, innovative product features and outstanding value. Crystal operates branches, subsidiaries and affiliates in Pennsylvania, Ohio, Missouri, Connecticut, New Jersey, Illinois, and Massachusetts. Crystal is dedicated to practicing 'green' environmental initiatives in all aspects of corporate activities. For further information about Crystal and its products, call 718-961-7300, or visit the website at www.crystalwindows.com.

More from Agricultural & Farming Products