CRP Automotive Offers AAE Re-engineered Power Steering Pump for Honda and Acura Vehicles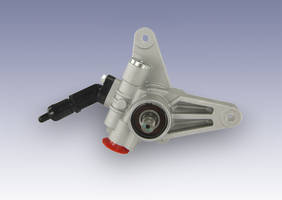 Cranbury, NJ… CRP Automotive, a leading source of OE-quality replacement and service parts, has added a newly re-engineered Power Steering Pump to its formidable line up of AAE new and remanufactured power steering components. The AAE Power Steering Pump, P/N 5760N, is designed for applications on the 2005-2010 Honda Odyssey, 2005-2008 Honda Pilot, and the 2003-2010 Acura MDX.
While developing the 5760N AAE Power Steering Pump, CRP Automotive specially re-engineered the pump to solve OE design flaws. AAE engineers also made installation easier and more reliable so that shops do not have to worry about any comebacks.
The AAE Power Steering Pump features a pre-installed return pipe and a special valve design, which help to ensure the delivery of proper pressure and avoid common service issues. The pre-installation of return pipe eliminates the need to reuse an old return pipe and helps to eliminate noise issues caused when air enters the system. The special design of the valve ensures that the valve guide walls do not wear down and lead to low pressure and low performance.
About AAE (Atlantic Automotive Engineering)
AAE (Atlantic Automotive Engineering) specializes in new and remanufactured steering racks, power steering pumps, gearboxes, and related electric steering components. Founded in 1987, AAE is a brand of CRP Industries Inc., parent company of CRP Automotive. All AAE components are developed and produced in a modern 125,000 sq. ft. headquarters and manufacturing facility in Tabor City, NC.
For additional information, visit: www.aaesteering.com.
About CRP Automotive
CRP Automotive is a leader in the manufacture, marketing, and supply of OE quality import automotive parts. CRP provides some of the industry's leading brand names, including AAE Steering Systems, REIN Automotive Parts and Accessories, ContiTech Belts and Kits, Pentosin Technical Fluids, AJUSA Engine Parts and FERTAN Rust Treatment products. All products are backed by the CRP promise of quality and superior service. Founded in 1954, CRP Automotive has established a solid reputation for exceeding its customers' expectations. CRP maintains key distribution centers in the NAFTA market.
For additional information, visit: www.crpautomotive.com.
For additional information contact:
Monika LaPrete,
Marketing Communications Director
Phone: (609) 578.4100
Fax: (609) 578.4050
E-mail: MLaPrete@crpindustries.com
More from Services