Crestron Mercury UI Update Delivers More Refined User Experience and Powerful New Functionality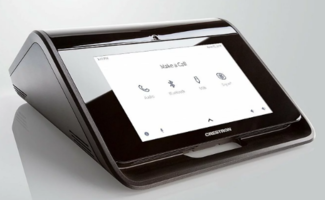 Trailblazing tabletop meeting and collaboration system now offers cleaner UI design and intuitive navigation; available as free firmware update for existing units
Rockleigh, NJ – October 22, 2019 – Crestron, a global leader in workplace technology, today announced the release of a major user interface update for Crestron Mercury®, the industry-leading tabletop meeting and collaboration solution. The new UI features a more modern-looking, cleaner design that provides users with a simpler experience, including more intuitive navigation. The redesigned UI will ship with all new Crestron Mercury units and is available for existing units via a free firmware upgrade.
"The updated UI builds on the years of success of Crestron Mercury with a simpler, more refined user experience," said Joe Sarrasin, Program Manager, Enterprise Solutions at Crestron. "It makes it easier for users to access what they need, with more information on the home page and call screens, including room schedule, status, and availability."
The firmware update is available now and will be added to the auto-update for Crestron Mercury on Oct. 28th, at which point it will be the default on all systems. Information on how to install the new UI experience on existing Crestron Mercury units is available via a Crestron Online Help article so technology managers can evaluate it prior to the auto-update. 
Enhanced core functionality
Crestron Mercury now includes the latest AirMedia® 2.0 wireless presentation UI, which provides automatic detection of the web browser and app installation for one-click wired or wireless connectivity and presentation in just seconds, plus support for Miracast® connectivity to boost collaboration in any meeting space.
Other Crestron Mercury advancements include plug-and-play support of Crestron AirBoard™ for capture, display, and sharing of whiteboard content with anyone, anywhere; and support for Crestron Certified Drivers to enable control of any display.
About Crestron Mercury
Crestron Mercury is the most complete, easy-to-use, easy-to-deploy and manage tabletop meeting and collaboration system. The sleek, all-in-one console is all that's needed to transform any space into a highly effective collaboration space. It combines all the must-have conferencing and collaboration features employees need, including enhanced audio, access to a front of room camera, no-touch connection and sharing, and room scheduling awareness. Crestron Mercury also provides the fast, secure cloud provisioning and management required by IT managers.
Learn more
For more information about the award-winning Crestron Mercury tabletop meeting and collaboration system, visit crestron.com/mercury.
About Crestron
At Crestron we build the technology that integrates technology. Our automation and control solutions for homes and buildings let people control entire environments with the push of a button, integrating systems such as AV, lighting, shading, security, BMS and HVAC to provide greater comfort, convenience and security. All of our products are designed and built to work together as a complete system, enabling you to monitor, manage and control everything from one platform.
Our products are backed by more than 90 fully-staffed offices that provide 24 x 7 x 365 sales, technical, and training support across the globe. In addition to its World Headquarters in Rockleigh, New Jersey, Crestron has sales and support offices throughout the U.S., Canada, Europe, Asia, Latin America, and Australia. Discover Crestron by visiting www.crestron.com.
Contact:
Ron Epstein
Crestron Electronics, Inc.
Phone: (201) 564-6047
repstein@crestron.com