Crescent Harbor Lighting Now Selling New Lighting Fixtures from Northeast Lantern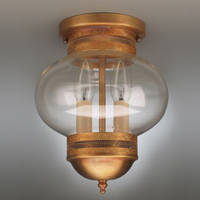 Gearing up for the holiday season, one of the nation's leading companies specializing in lighting fixtures is now offering several new lighting fixtures to beautify the interior or exterior of your home.
KENNEBUNK, ME - OCTOBER 20, 2017 - Crescent Harbor Lighting (http://www.crescentharbor.com), a Kennebunk, Maine-based company announced today that it is now selling new lighting fixtures from Northeast Lantern.
"We're excited to now offer the new lighting fixtures from Northeast Lantern," said Tim Fossett, president and spokesperson for Crescent Harbor Lighting, which is the online arm of The Lighthouse, a family-owned lighting company founded in 1972. "For over 25 years, each Northeast Lantern has been cut from sheets of brass or copper, soldered, finished then wired and lamped by hand. The craftsmen and women at Northeast take several weeks to build a consistent high quality product with first rate durability. An inspired array of outdoor post mount fixtures will take you back to a previous era."
Made in the lovely New England community of Exeter, New Hampshire Northeast Lantern's light fixtures will take you to a simpler time. Fossett went on to note that Crescent Harbor Lighting showcase all of Northeast Lantern's new fixtures.
The first newly added lighting fixture is the 2034G Onion 2 Light Flush Mount. Described as a customer favorite, the Onion Collection, Fossett explained, represents the finest of Northeast Lantern's workmanship and design. Each piece is carefully cut, soldered, finished and wired by hand. Crafted with a detachable globe, they are easy to maintain.
"It is a medium onion flush mount fixture featuring decorative galley bandings with two, 60-watt candelabra sockets suspended from the top and cream colored candle sleeves," Fossett explained, before adding, "All joints are securely soldered in place with precision and attention to detail. The bottom unscrews releasing the hand blown glass globe ensuring easy removal for cleaning and bulb replacement."
The second newly added fixture is the 6832R Northeast Lantern 4 Light Hanging Lantern.
"The Hanging Lantern brings a welcome light to your entry way or dining room," Fossett said. "The graceful arched tops of this series flows seamlessly into functional square bases reminiscent of traditional lanterns. This fixture has been constructed with tabs to make the removal and installation of the glass panels effortless if they need to be washed or replaced."
The third fixture is the 903F Northeast Lantern Williams 3 Light Flush Mount Chandelier. The Williams Collection flush mount chandeliers are perfect for bedrooms, hallways, closets and small rooms, according to Fossett. This light sits flush against the ceiling with an understated mounting canopy, and comes standard with paper cream sleeves. It also allows customers to choose optional paper drip, bees wax and brass candle sleeves.
The fourth newly added lighting fixture is the 8953 Northeast Lantern Empire Outdoor Post.
"Empire Collection is a fusion of modern and contemporary styles, highlighted by the unique triple tiered top with square edges," Fossett said. "All lanterns in this collection arrive standard with decorative beaded brass candle sleeves and clear glass."
For more information, please visit http: http://www.crescentharbor.com/aboutus.html.
About Crescent Harbor Lighting
Crescent Harbor Lighting is the online arm of The Lighthouse, a family-owned lighting company founded in 1972.
The company specializes in a high-touch customer service approach to retailing lighting fixtures, ceiling fans and other related items.
Related