Metal Injection Molding Services
Concurrent Technologies Corporation Earns Two Patents for Metal Injection Molded Ammunition Cartridge Cases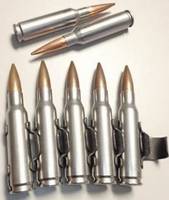 Johnstown, PA, April 4, 2023 – Concurrent Technologies Corporation (CTC) has been awarded two patents for "Shell case design utilizing metal injection molding." These patents detail the invention of a single-piece, high-strength metallic cartridge case that is stronger, stiffer, and lighter than traditional brass.
The revolutionary new design is a joint development between CTC and the U.S. Army to improve warfighter effectiveness through increased lethality, improved accuracy, and reduced ammunition weight.
Several cartridge calibers have been demonstrated with distinct advantages over competing solutions, such as hybrid metallic-polymer and multi-piece metallic cartridge cases. Metal injection molded cartridge benefits include:
30% case weight reduction vs. brass
High-pressure capability, up to 100 ksi tested
Increased muzzle velocity, up to 10% over brass
Increased accuracy (sub-MOA [Minute of Angle])
Durable stainless steel case material with reliable functionality from -65°F to 160°F
Rugged, single-piece design with no corrosion issues
Compatible with existing brass case taper, trim, load, assemble, and pack manufacturing infrastructure
United States Patents 11465207 and 11493314 not only protect the U.S. government's ability to organically produce and supply this technology to the warfighter but allow cost reduction and maturation through private commercialization.
"This award comes at a time when global commodity prices for copper and brass are at all-time highs. The use of high-strength, lightweight stainless steel cartridge cases in ammunition production reduces manufacturing costs," said Edward J. Sheehan, Jr., CTC President and CEO. "The CTC team has done an outstanding job of analyzing requirements, developing a solution, and ensuring it is cost-effective and scalable."
Additional cost savings include:
Reduced fuel and transportation costs from cartridge weight savings
Easy firing range cleanup due to cases being magnetic
Reloadable for consumer and competitive shooting
"We're extremely excited to get this advanced technology to the warfighter to reduce their combat load and increase their mobility and lethality," said Shawn Rhodes, CTC Principal Mechanical Engineer. "It's an honor to develop technologies that benefit those who protect our country."
The activity that led to this patent is part of CTC's overall ammunition and weapon systems engineering services. The shell casing design inventors are Todd Skowron, Juan Valencia, Shawn Rhodes, and William Brueggen.
 Concurrent Technologies Corporation (CTC) is an independent, nonprofit, applied scientific research and development professional services organization. CTC collaborates with its technology transition affiliate, Enterprise Ventures Corporation, to provide transformative, full lifecycle solutions through research, development, test, and evaluation work. To best serve our clients' needs, we offer the complete ability to fully design, develop, test, prototype and build. We deliver robust, technical, and innovative solutions that safeguard our national security, retain U.S. technological advantage, and ensure the primacy of American manufacturing. For more information about CTC, visit www.ctc.com.
Media Contact:
Mary Bevan
+1-814-269-2490
[email protected]