Complete Systems Integration of Dry Material Handling for the Brewery Process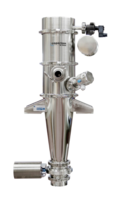 Complete Systems Integration of Dry Material Handling for the Brewery process
Sewell, NJ, USA (April 2019) Coperion and Coperion K-Tron will exhibit for the first time at the Craft Brewers Conference & Brew Expo America (April 8- April 11, 2019) in Denver, Colorado. The highly experienced personnel of Coperion K-Tron can provide a wide variety of design and layout options in both ingredient transfer and delivery to help brewery manufacturers to not only lower process costs but also to improve efficiency and product quality.
The booth will feature a working recirculating conveying system to illustrate the use of loss-in-weight batching and/or conveying of ingredients to brewery silos, tanks and kettles. The Coperion K-Tron line of feeders provides for the highest degree of accuracy in ingredient and product delivery in order to optimize ingredient cost savings. The KT20 Twin Screw Feeder is displayed on a platform scale, with the P10 Central Receiver and controller demonstrating a custom solution for difficult conveying applications. Integrated control systems permit automation for even the simplest of brewery material handling applications.
Coperion K-Tron Twin Screw Feeder for accurate feeding of difficult flowing materials
The Coperion K-Tron Twin Screw KT20 Feeder with interchangeable feeding tools is mounted on a fully enclosed platform scale for high accuracy feeding of difficult flowing ingredients including additives and flavors. All feeder parts in contact with the material being fed are stainless steel, and feeding equipment is easy to disassemble. A horizontal agitator gently moves the bulk material to the large throat and then into the screws. The feeder can be used for loss-in-weight batching direct to brew kettles. As an alternative, gain-in-weight batching can also be supplied utilizing scale hoppers complete with Coperion K-Tron's high accuracy load cell technology depending upon the rates and accuracies required.
Coperion K-Tron Pneumatic Receivers – sanitary solution for the brewery industry
Coperion K-Tron Model P10 Receiver provides a sanitary solution for difficult material conveying applications in the food and brewery industries. Coperion K-Tron provides a wide variety of conveying receiver types and conveying methods, including dense and dilute phase vacuum and pressure conveying systems. The sanitary design of the P-Series Receivers includes steep cone angles to ensure excellent discharge and band clamps for quick disassembly. They can be used for gain-in-weight or loss-in-weight feeder batching applications, as well as simple up and in systems or larger, central vacuum conveying systems. Typical conveying applications in the brewery industry include conveying and weighing of raw materials to the silos, gristmill and mash tun. Additional systems include subsequent conveying of milled product to the mash tun, whereby the same vacuum pump can be used to further convey the spent grain from the tun to the spent grain bin or truck.
Coperion (www.coperion.com) is the international market and technology leader in compounding systems, feeding technology, bulk materials handling systems and services. Coperion designs, develops, manufactures and maintains systems, machines and components for the plastics, chemicals, pharmaceutical, food and minerals industries. Within its four divisions – Compounding & Extrusion, Equipment & Systems, Materials Handling and Service – Coperion has 2,500 employees and nearly 40 sales and service companies worldwide. For more information visit www.coperion.com or email info@coperion.com.
Contact
Shari Lake
Director of Marketing
Coperion K-Tron Salina, Inc.
606 North Front Street
Salina, KS 67401 USA
Shari.lake@coperion.com
Telephone +1 (785) 825-3884
www.coperion.com
Contact This Company Download Spec Sheet
More from Electrical Equipment & Systems