Cobalt Blue FS-ULT70-99CB Class 3-4 Sterile Wipes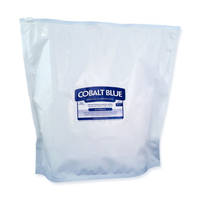 Blue Thunder Technologies offers Cobalt Blue FS-ULT70-99CB validated sterile presaturated wipes for ultra-critical aseptic areas and where sterile compounding is performed. They are approved for use in a variety of sterile cleanroom applications including ISO Class 3-4 (Class 1-10) and higher.
Cobalt Blue FS-ULT70-99CB contain four edges that are individually laser cut, with melted and sealed edges to eliminate loose fibers. Offered in 9" x 9", these wipes are saturated with 70% IPA and 30% DI Water. FS-ULT70-99CB are packaged 30 Wipes/Bag, 10 Bags/Case.
Cobalt Blue Wipes are gamma irradiated with Cobalt 60 and validated to SAL (Sterility Assurance Level) of 10-6 in accordance with the standards and recommended practices of the ANSI/AAMI/ISO 11137:2006 guidelines.
Blue Thunder Technologies is a manufacturer and distributor of products for controlled environments, electronics assembly, and industrial applications.
For more, visit https://bluethundertechnologies.com/product/cobalt-blue-pre-saturated-sterile-wipes-9-x-9/
Blue Thunder Technologies
1 Corporate Rd.
Enfield, CT 06082
Phone: 8602657995
https://bluethundertechnologies.com
Contact:
Matt Hatfield
Graphic Designer
email: matt@bluethundertechnologies.com
More from Communication Systems & Equipment