Cloos Twin Wire Robotic Guns - ATTC Now Manufactures Replacement Parts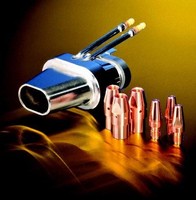 The American Torch Tip Company has started making replacement parts for use on the Cloos Tandem and Twin Wire robotic torch Systems.

The company now offers an expanded consumables line which includes parts for the ZMW600,ZMW610 and MRW500 robotic torches

The emphasis has been on developing a line of domestic products with higher quality and extremely close tolerances to insure good weld performance.

ATTC also manufactures replacement parts for most MIG, TIG, plasma, oxy-fuel, thermal spray and laser guns torches and machines.