Clean Room Injection Molding for the Medical Industry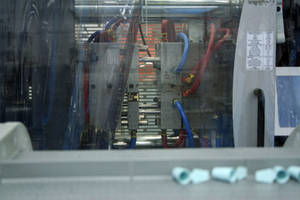 Clean Room injection molding is becoming increasingly necessary in the medical and pharmaceutical industries. In this field, cleanliness is not only essential but regulated very specifically and adheres to strict medical manufacturing protocols which include operating under the ISO 13485:2003 certificated procedures for medical devices.

Typically, a clean room is a location that maintains a controlled level of environment pollutants as they relate to contamination. These pollutants may include dust, chemical vapors, aerosol particles or airborne microbes. This contamination is defined by the amount of particles at a specified size per cubic foot of air. There are different classifications of clean rooms a certified ISO 7 clean room is 10,000 particles per cubic foot and ISO 8 certified clean room is 100,000 particles per cubic food. The type of clean room needed for manufacturing depends on the products requirements or customer specifications.

ISO 13485:2003 quality certification is for companies who manufacture medical devices. This certification has special requirements that are in line with the FDA's QSR standards and is globally recognized for conforming to the medical device regulatory requirements. This gives an injection molding company the benefit of increased efficiency, meets regulatory requirements and helps monitor the effectiveness of their supply chain.

Clean Room injection molding and assembly is a great use in the medical industry where cleanliness is paramount in the production of Class I, II and III medical devices which include:

o medical device housings

o surgical instruments

o implantables

o emergency room products

o fluid delivery devices

o fluid delivery containers

o cardiac products

o blood delivery housings

o optical grade lenses

o dental products

To ensure products meet medical standards, Crescent Industries' medical molding division, Crescent Medical Plastics operates an ISO 8 clean room injection molding facility that follows ISO 13485:2003 certified procedures for medical device manufacturing. To help complete their customers' clean room requirements, Crescent Medical Plastics also has a certified ISO 7 clean room for assembly and packaging services. For more information on Crescent's clean room molding, assembly and packaging services, please visit our website www.crescentind.com or call 1-800-411-3844.

More from Test & Measurement