Impeller / Propeller / Turbine - Agitators / Mixers
Chemineer GT Turbine Agitator Offers Mounting and Sealing Options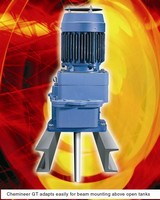 Dayton, Ohio - The Chemineer GT Turbine Agitator offers mounting and sealing options to suit any application for unmatched customer value. GT agitators provide cost-efficiency in an advanced parallel shaft design specifically engineered for rugged turbine agitator service.

Chemineer open tank GT agitators can be mounted two ways:
o Drive-mounting to beams using a heavy-duty, cast housing capable of handling maximum loads.
o Pedestal-mounting to beams using a rugged, cast iron pedestal to prevent exposure of the drive to the fluid.

The closed tank version of the GT agitator is easily adaptable to a wide range of applications using one of several sealing options:
o Lip seals protect process fluid from contamination in low pressure applications.
o Six-ring stuffing box, composed of PTFE/graphite-braided packing that requires no lubrication.
o Singe mechanical seal which is the economical choice when a pressurized barrier between the tank contents and outside environment is not necessary.
o Single mechanical cartridge seal for dry-running capability with an easily replaceable cartridge.
o Split mechanical seal that simplifies installation and maintenance.
o Double mechanical cartridge seal for excellent sealing capabilities, long life and minimum maintenance.

Chemineer, Inc. is dedicated exclusively to mixing technology and the manufacture of quality equipment for fluid agitation applications. Chemineer has operations in Dayton, OH; North Andover, MA; Mississauga, Ontario; Derby, England; Mexico, D.F.; Singapore, China and India. For more information, visit, www.chemineer.com.

Reader service inquiries should be forwarded to Kevin Walsh, Chemineer, Inc., P.O. Box 1123, Dayton, Ohio 45401-1123. Telephone: 937-454-3200. Fax: 937-454-3379.
E-mail: reachus@chemineer.com. Web: www.chemineer.com. For the nearest sales office, call 1-800-643-0641.

More from Material Processing