CGTech to Demonstrate VERICUT Applications at Smart Manufacturing Experience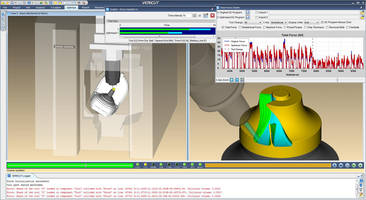 Irvine, California - At the Smart Manufacturing Experience in Boston, MA (April 30-May 2, 2018), VERICUT version 8.1 will be featured in CGTech's booth #639. VERICUT CNC machine simulation, verification and optimization software simulates all types of CNC machining, additive, and hybrid manufacturing processes. The software operates independently, but can also be integrated with leading CAM systems.
"This release is all about various tools that help NC programmers evaluate method efficiency, reduce production time, and detect costly errors before going to the shop floor," said VERICUT Product Manager Gene Granata. "Additive manufactured parts that require finishing, hybrid manufactured parts, and traditionally machined parts also benefit greatly from features we've added for feed rate and cutting force optimization."
At the show Jared Preece, CGTech Technical Support Engineer, will be leading a knowledge bar session on choosing part optimization strategies.
According to the company, by optimizing toolpath feed rates, VERICUT's Force™ module reduces machining time, increases tool life, and produces a higher quality finished product. Graphs and charts are enhanced to display in real-time, revealing cutting conditions and forces as they are encountered by cutting tools. This helps NC programmers "see" machining in a more analytical way, and immediately identifies undesirable cutting conditions. Spikes in the graphs show when forces, chip loads, tool deflection, and material removal rates exceed a tool's recommended performance parameters. With one click on the chart, the responsible NC program record is identified and the graphics area displays the corresponding cut helping NC programmers to better understand cutting processes.
Several new modules have been added including: Additive, Grinder-Dressing, and a Teamcenter Interface. Many enhancements improve VERICUT's core functionality such as: easier sectioning that extends to machine views, X-Caliper dimension labels displayed with models, new report template editor, and easier G-Code offsets.
About CGTech
CGTech's VERICUT® software is the standard for CNC simulation, verification, optimization, analysis, and additive manufacturing. CGTech also offers programming and simulation software for composites automated fiber-placement, tape-laying, and drilling/fastening CNC machines. VERICUT software is used by companies of different sizes in all industries. Established in 1988, and headquartered in Irvine, California; CGTech has offices worldwide. For more information: visit the CGTech website at cgtech.com, call (949) 753-1050, or email info@cgtech.com
More from Laboratory and Research Supplies and Equipment