CES 2018: Rinspeed's Snap Car Banks on HARTING's Fast Charging Technology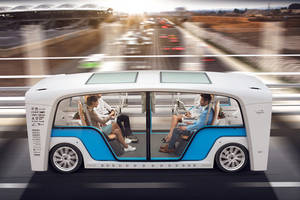 Las Vegas, January, 2018 - Swiss manufacturer Rinspeed AG presented its new concept vehicle, the electrically powered "Snap", at the Consumer Electronics Show in Las Vegas last week that relies on innovative HARTING environmentally friendly technology for rapid charging. The "Snap" also will be on display at the Rinspeed stand at the Geneva Motor Show (March 8-18, 2018) and at the HARTING stand at the HANNOVER MESSE (April 23-27, 2018).
The HARTING Technology Group's Fast Charging technology – unveiled at the Geneva Motor Show two years ago,– is part of the family owned company's growing portfolio of products and components for that sector. "Almost all new e-car concepts from the big OEMs now offer high-performance fast charging," says Marco Grinblats, HARTING Automotive Managing Director. "This boosts driver acceptance – it's a breakthrough."
HARTING has long been an expert, reliable partner to virtually all national automobile manufacturers and major OEMs in Europe. HARTING is supplying the VW Group with a specific e-mobility solution and various types of charging equipment for different Group brands, including the Porsche Panamera 4-Hybrid. HARTING also is a Tier 1 supplier for BMW Group.
The Snap project is the third successful collaboration between Rinspeed and HARTING. Last year, HARTING's miniMICA acted as a scalable and flexible electronic architecture in the "Oasis" concept vehicle. In 2016, the MICA was installed in Rinspeed's "Etos" vehicle for independent emission and condition monitoring. MICA earned HARTING the prestigious "HERMES AWARD" for innovation that year.
About HARTING
The HARTING Technology Group, family owned and based in Germany, employs more than 4,600 people globally with subsidiaries and branch offices in 43 countries. With 13 production facilities in Europe, Asia, Mexico and the United States, the HARTING portfolio of connectivity solutions focuses on multiple levels, from the machine to the device and into the communication infrastructure. The US facility in Elgin, Illinois is one of three HARTING locations that manufactures the HIS product line (HARTING Integrated Solutions - backplanes) and custom cable assemblies. The company's core business is intelligent and high-performance connection technology. HARTING works in almost all industrial markets with a focus on requirements for robust, reliable connectivity solutions.
More from Thermal & Heating Equipment