Cerwin-Vega! P-Series Boosts the Audio at Hollywood Music Venue Amplyfi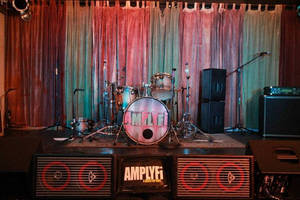 Powerful, Portable Speaker System Provides Sound Superiority



Popular Hollywood music venue AMPLYFi recently upgraded its PA system with units from Cerwin-Vega!®'s new P-Series Professional PA system and CVA Active Series Speakers. Though the all-ages nightclub has always had a reputation for unfaltering, high-quality sound, when owner Kota Wade first heard the venue's bands through the P-Series system, she was immediately in awe and knew she had to switch over to Cerwin-Vega!



The Cerwin-Vega! setup at AMPLYFi features two P-Series stacks, which each include a P1500X two-way, bi-amped, full-range bass-reflex speaker and a P1800SX powered subwoofer. Equipped with a large woofer and amplifier, each P1800SX offers Cerwin-Vega!'s signature high-level bass punch with extreme low-end response to all musicians who play at AMPLYFi. The sleek and sufficient hemi-conical horn of the P1500X, meanwhile, gives the venue an enhanced sound clarity over an even and wide coverage area.



"Changing the entire sound system was a huge decision for me," says Wade, who is also a musician and AMPLYFi's front-of-house engineer. "It's like a model cutting off all her hair. It may look great, but it's a big decision. I was just so stunned with the clarity I heard from the P-Series and CVA at every volume level, even when I ran it through multiple music genres. That was when I knew I had to make the switch to Cerwin-Vega! The sound of this place is critical, so I did not make the decision of switching over to Cerwin-Vega!'s P-Series lightly. But, I don't regret it for a minute!"



Rounding out the audio setup at AMPLYFi are several Cerwin-Vega! CVA-28s, two of which are strategically facing the audience at center fill, and four being used as sound monitors.



Primarily a live music venue, AMPLYFi is home to several renowned artists, such as Echosmith, The Maine, the Brobecks, the Bolts and, of course, Wade's two bands – Girl Radical, a 12-member pop music super group managed by 'N Sync's JC Chasez, and Bad Wolf, an alternative rock band. The 800-square-foot space features music of varying styles, including ambient, electronic and rock, and groups of all sizes, from acoustic outfits to big bands, which is why Wade especially loves Cerwin-Vega!'s sound control.



"When I decided to make the switch to the P-Series and CVA, I didn't just change my gear, I changed my setup," adds Wade. "I included subwoofers, which I had never used in this space before, because I felt safe knowing that the P-Series allows me to have total control over the sound, which is very important in a room this size. People of all ages can stand less than a foot away from the speakers when a band is playing, and I know that I won't blow out their ears because I can control the sound levels."



Wade isn't the only person to notice the new-and-improved sound that AMPLYFi has to offer. "It's just a different feel to it, and I am constantly amazed at how loud the P-Series can get while maintaining such clarity," says Wade. "Our bands have all noticed the difference and love the new improvements that Cerwin-Vega! has made to AMPLYFi."



The audience also loves the sound quality that the P-Series provides, which Wade jokes is an especially important element at her club, since it is an alcohol-free venue. "AMPLYFi is completely dry because I wanted to create a space where teenagers could party and listen to good music in a safe environment," concludes Wade. "But, when you can't hide behind your customers' 'alcohol ears,' the sound has to be really good. It definitely is with the P-Series."



The Cerwin-Vega! P-Series delivers a new standard in power and bass punch and is suited for any sound reinforcement application, from live performances to public speeches. The P1500X speaker is the most powerful PA product in its price class, employing a 15-inch woofer and high-frequency compression driver, powered by a custom 1500W Class-D amp. The P1800SX powered subwoofer features an 18-inch woofer with a custom 2000W Class-D amp. Both pieces include a built-in mixer with I/O connections, allowing for simple and fast setup, while enhanced EQ, VEGA BASS boost and high-pass filters enable exact tuning and exceptional performance for any event.



Situated in the heart of Hollywood, AMPLYFi is an all ages live music venue. Over 1,500  bands have graced the club's stage since its opening, with many more scheduled to perform in the upcoming months. Due to AMPLYFi's location, celebrities are known to frequent the club, particularly Dallon Weekes from Panic! At the Disco, as well as JC Chasez. To learn more about the space and upcoming artist performances, visit: http://www.amplyfi.com.



About Cerwin-Vega!

Cerwin-Vega!, part of the new Gibson Pro Audio division, is a leader in the design, manufacture, and distribution of loudspeakers for the home and professional audio markets. Designed in the pursuit of dynamic, accurate sound reproduction since 1954, Cerwin-Vega! products are distributed throughout the world via a network of distributors and dealers in more than 75 countries. For additional information on all Cerwin-Vega! products, please visit us online at www.cerwin-vega.com.



About Gibson Guitar Corp.

Gibson Guitar Corp. is known worldwide for producing classic models in every major style of fretted instrument, including acoustic and electric guitars, mandolins, and banjos. The Gibson Les Paul Guitar is the bestselling guitar of all time and is a tribute to the late, famed musician of the same name. Collectively, the Gibson Robot Guitar, Gibson Dark Fire, Gibson Dusk Tiger and the Gibson Firebird X represent the biggest advances in electric guitar design in more than 75 years. Through the Gibson Foundation, Gibson Guitar Corp. has become equally known for its philanthropic efforts on behalf of music, education, health, and human services. Founded in 1894 in Kalamazoo, MI, and headquartered in Nashville, TN, since 1984, Gibson Guitar Corp.'s family of brands includes Epiphone, Dobro, Kramer, Steinberger, Tobias, Echoplex, Electar, Flatiron, Slingerland, Valley Arts, Maestro, Oberheim, Baldwin, Sunshine Piano, Take Anywhere Technology, J&C Fischer, Chickering, Hamilton, Wurlitzer and Gibson Pro Audio. Visit Gibson's website at www.gibson.com. Follow Gibson Guitar at www.twitter.com/gibsonguitar and www.facebook.com/gibsonguitar.

More from Architectural & Civil Engineering Products