Cavium to Demonstrate Leading Datacenter, HPC and Next-generation Cloud Infrastructure Solutions at Red Hat Summit 2017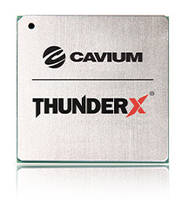 SAN JOSE, Calif., May 2, 2017 - Cavium, Inc. (NASDAQ: CAVM), a leading provider of semiconductor products that enable secure and intelligent processing for enterprise, datacenter, cloud, wired and wireless networking, will demonstrate leading datacenter, HPC and next-generation cloud infrastructure solutions with ThunderX® running on Red Hat operating systems and applications at Red Hat Summit 2017. The conference will be hosted at the Boston Convention and Exhibition Center from May 2nd - 4th.
Red Hat Summit is the premier open source technology event to showcase the latest and greatest in cloud computing, platform, virtualization, middleware, storage, and systems management technologies.
The ThunderX product family is Cavium's 64-bit ARMv8-A server processor for datacenter and cloud applications, and features high-performance custom cores, single- and dual-socket configurations, high memory bandwidth and large memory capacity. The product family also includes integrated hardware accelerators, integrated feature-rich high bandwidth network and storage IO, fully virtualized core and IO, and scalable high bandwidth, low latency Ethernet fabric, which affords ThunderX best-in-class ARMv8-A performance per dollar. They are fully compliant with ARMv8-A architecture specifications as well as ARM's SBSA and SBBR standards, and widely supported by industry-leading OS, Hypervisor and Software tool and application vendors.
Cavium will present the following product demonstrations in the ARM Ecosystem Showcase booth #426:
ThunderX & ThunderX2™: 64–bit ARMv8–based SoC family of workload–optimized processors with a range of SKUs and form factors optimized for scale out workloads including volume compute, storage, secure compute and networking running Red Hat Enterprise Linux OS and key cloud workloads.
Cavium OEM and Cloud partners will be presenting ThunderX platform demonstrations and ThunderX Web Hosting Solutions.
Cavium Open Source and Application partners will be demonstrating software applications and expanding ARM server software ecosystem availability and maturity.
Cavium will also be participating at the Red Hat hosted panel session on ARM-based datacenters on Wednesday, May 3rd at 11:30 a.m. EDT in the Partner Theatre. A number of Cavium partners will also be participating at this panel including Packet, Linaro and ARM.
To schedule a meeting with Cavium, please contact your local sales account manager or Sales@cavium.com. Please enter Meeting at Red Hat Summit 2017.
About Cavium
Cavium, Inc. (NASDAQ: CAVM), offers a broad portfolio of infrastructure solutions for compute, security, storage, switching, connectivity and baseband processing. Cavium's highly integrated multi-core SoC products deliver software compatible solutions across low to high performance points enabling secure and intelligent functionality in Enterprise, Datacenter and Service Provider Equipment. Cavium processors and solutions are supported by an extensive ecosystem of operating systems, tools, application stacks, hardware reference designs and other products. Cavium is headquartered in San Jose, CA with design centers in California, Massachusetts, India, Israel, China and Taiwan.
SOURCE Cavium, Inc.
CONTACT:
Angel Atondo,
Sr. Marketing Communications Manager,
Telephone: +1 408-943-7417
Email: angel.atondo@cavium.com
Web Site: http://www.cavium.com
More from Sensors, Monitors & Transducers