Caron Announces the Introduction of a New 33 cu. ft. Platform, an All New Series of Products with Earth Friendly Technologies and Customer Driven Designs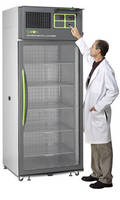 (Marietta, OH, January 25, 2011) Caron is proud to announce the launch of its new large capacity 33 cu. ft. (934 liters) series of chambers. With this introduction, Caron now offers a complete range of capacities in its unified portfolio of controlled environment products. The 33 cu. ft. 6040 series is available now in configurations that supersede all Model 6030 series 30 cu. ft. units. This new platform will include: Environmental Chambers, CO2 Incubators, Refrigerated CO2 Incubators, Refrigerated Incubators, Diurnal Incubators, Insect Growth Chambers and Heated Incubator/Environmental Chambers.

"The launch of the 6040 line completes an extensive R&D effort aimed at offering customers a complete line of modern, user friendly and energy efficient products," Dave Figel, Vice President of Engineering and Operations said. "Caron's products represent best in class, leading edge product lines with interior capacities that include 10, 25 and 33 cu. ft. sizes. We are certain our customers will be pleased with the new, unified platform."

Like the 6010 and 6020 series, the new 6040 product line reduces both energy consumption and utility costs. The 6040 series operates on a standard 115V laboratory electrical outlet. Units with refrigeration systems utilize Caron's gROD(TM), Refrigeration on Demand, which provides refrigeration only as needed. In humidified units, Caron's gVapor(TM) delivers controlled, atomized humidity, compared to competitive units that employ heat generating, energy consuming steam-generated humidity. All of these earth friendly features from Caron contribute to significantly lower energy consumption.

The new 6040 series gives customers 10 percent more testing capacity than the 30 cu. ft. series it replaces, and takes up a minimal amount of space. They fit in the same small footprint as the 25 cu. ft. series. This new series will come standard with casters and leveling feet, which aid in installation and allow for easy relocation in and around the laboratory. The entire interior is removable without tools, allowing for simple reconfiguration and routine cleaning.

"This new 6040 series launch will result in seven new products and demonstrates our commitment to offering a broad product range with cutting edge technology to our customers," Figel said. "Caron units represent the industry's most advanced chamber and incubator designs, with superior performance and energy efficiency, backed by a knowledgeable team of service and applications support."

Caron's diverse product line covers a wide range of markets and applications, including: pharmaceutical, industrial, academic, cell and tissue culture, clinical, food and beverage, nutraceutical, biomedical, cosmetics, paper and pulp, textile and insect rearing.

"Our products are very easy to customize to your specific application," Figel said. "A wide range of new accessories are available to allow different customer bases to choose exactly what they need in an economical way."

The 30 cu. ft. 6030 series will be phased out by Q2 2011. To learn more about the new 6040 series, visit www.caronproducts.com or contact Customer Service at 800-648-3042 or by email at sales@caronproducts.com.

About Caron:

Caron Products & Services, Inc. is a Marietta, Ohio based manufacturer of environmental chambers for temperature and RH exposure testing; photostability chambers to conform to ICH Guidelines Q1B; Benchtop and Reach-in CO2 incubators for small to large scale, high volume cell culture; and baths/circulators for precise temperature control of laboratory devices. For more information on Caron, visit our website at www.caronproducts.com, contact us at 800-648-3042, fax 740-374-3760, or e-mail sales@caronproducts.com.

Related