CableOrganizer.com Gives Inside Tips on How to Prevent Accidents, Protect Sensitive Wiring and Rescue Your Décor with Cable Covers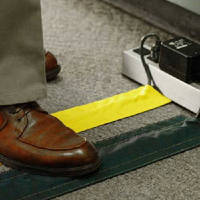 Cord covers prevent trip-and-fall injuries and keep the emphasis on your décor - not the cables on your floor.

Fort Lauderdale, FL, February 10, 2011 - Floor-level cords: they trip you when you're not looking, cost big bucks to replace after you've trampled them one time too many, and have a way of making even the most gorgeously decorated rooms look not quite "finished." Thankfully for the rest of the world, award-winning eTailer CableOrganizer.com is no stranger to these universal floor cable woes; as a matter of fact, they're dedicated to conquering them, with a little help from strategically-chosen cable covers.

"Many of us live with the day-to-day risks and annoyances of floor cords, but not many people realize how easy and cost-effective it can be to end these problems with something as simple as a cable cover" notes Christina Hansen, a Product Specialist with CableOrganizer.com. "We see it as our mission to not only educate our customers on how they can put an end to the hazards and décor headaches caused by floor cable clutter, but also to equip them with the perfect cord cover for the job."

CableOrganizer.com explains the differences between different categories of cable covers, and provides tips on how to choose the right one:

Light Duty Cable Covers: Light duty cable covers are a top choice for home and office, as they're best suited to protecting a few wires at a time from light foot traffic and rolling office chairs, as well as preventing tripping hazards and related injuries. Light duty cord covers (http://www.cableorganizer.com/cord-covers/light-capacity-covers.htm) generally have a very low profile, and are available in options that include molded rubber, flexible plastic, rigid PVC and more, in colors that range from décor-friendly neutrals and bright safety-related colors, to the more specialized transparent and wood grain materials.

Medium Duty Cable Covers: Built more ruggedly and able to accommodate a greater number of cables than their light capacity counterparts, medium duty cable covers are ideal for environments like home garages, warehouses, and retail shops. Medium duty cord covers (http://www.cableorganizer.com/cord-covers/medium-capacity-covers.htm) are typically made from sturdy plastics, such as polyurethane, or hard-wearing rubber, both of which can stand up to abuse that ranges from moderate pedestrian walk-over to light vehicle traffic, depending upon the model.

Heavy Duty Cable Covers: Heavy duty cable covers are designed to provide the ultimate in protection to cables, hoses and air lines at indoor and outdoor special events, construction sites, warehouses, auto repair garages, and manufacturing facilities. Most often molded of ultra-tough polyurethane, these cable protectors have a reputation for lasting anywhere from years to decades, even when exposed to heavy, near-constant pedestrian traffic and high-speed vehicles weighing in at up to 20,000 lbs per axle. In many cases, heavy duty cable covers (http://www.cableorganizer.com/cord-covers/high-capacity-covers.htm) can be accessorized with ramps and rails to meet ADA compliance standards.

Hook and Loop Cable Covers: Ever gaining popularity as the attractive, adhesive- and damage-free alternative to duct tape, hook and loop cable covers (http://www.cableorganizer.com/safcord/) are taking homes and offices, as well as the hospitality and film industries, by storm. Made of tough, abrasion-deflecting nylon and bordered by hook-and-loop edging, these virtually flat fabric cord covers grab firmly onto any loop-style carpet to contain, route and protect cables without the sticky adhesive residue, carpet damage and décor-detracting qualities associated with duct tape. Hook and loop cable covers can be trimmed to size, machine washed, and reused anytime and anywhere.

About CableOrganizer.com
Founded in February 2002 and headquartered in Fort Lauderdale, FL, CableOrganizer.com is a premier cable and wire management-related product vendor. The company provides companies, organizations and individuals around the globe with 24/7/365 access to an extensive array of high-quality products and information resources through its convenient online storefront. In addition to CableOrganizer.com, the company also owns and operates CableOrganizer.fr, which is operated out of Rennes, France. CableOrganizer.com also publishes "On the Wire," a free monthly electronic newsletter with a considerable multi-national opt-in circulation base. Among other honors, CableOrganizer.com is continually named among Inc. Magazine's Inc. 500 and 5,000 and Internet Retailer magazine's "Top 500." CableOrganizer.com also ranked on DiversityBusiness.com's list of "Top 500 Women Owned Businesses in the U.S." and was named among the South Florida Business Journal's "Best Places to Work."

Note to Editors: High resolution artwork and select product review samples available by request. Contact Leanne Naidoo, CableOrganizer.com, leanne@cableorganizer.com, 954-861-6349.

CableOrganizer is a trademark of CableOrganizer.com, Inc. Other product and company names herein may be trademarks of their respective owners. Copyright 2011 CableOrganizer.com, Inc. All rights reserved.

More from Computer Hardware & Peripherals