BWD Automotive Releases 268 New Parts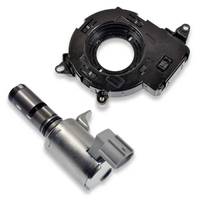 NEW YORK, Nov. 28, 2016 - Standard Motor Products, Inc. (SMP) announces the release of 268 new part numbers to its BWD® engine management line. The expansion increases coverage through the 2016 model year by more than 172 million additional VIO.
Highlights include new parts for key lines such as switches, sensors, and variable valve timing (VVT). The company adds 101 switches, 39 sensors, 56 VVT solenoids, and 6 VVT sprockets (a.k.a. cam phasers). In total, BWD's VVT line now offers more than 200 parts. Other notables from the release include the introduction of 36 clock springs and 8 fuel vapor canisters.
All new applications are listed in the eCatalogs found at www.bwdbrand.com and in electronic catalog providers.
BWD is an aftermarket leader, providing a premium line of engine management products. BWD manufactures and distributes high technology critical components for late model vehicles including computerized engine controls, ignition coil-on-plug coils, ignition wire, emission components, EGR valves, fuel injectors and fuel system components, as well as a broad range of sensors, switches and relays.
For additional information, contact an SMP sales representative or visit www.bwdbrand.com.
About SMP:
SMP supplies independent professional auto technicians and automotive do-it-yourselfers with high quality replacement parts for engine management ignition, emission and fuel systems as well as temperature control products for domestic and import cars and light trucks. SMP products are sold through both traditional and non-traditional distribution channels. For more information, download the SMP® Parts App 2.0 or visit www.smpcorp.com.
SOURCE Standard Motor Products, Inc.
CONTACT:
Catherine Smith,
(203) 845-0700,
Web Site: http://www.smpcorp.com
More from Laboratory and Research Supplies and Equipment