Bradley's New Advocate Lavatory System Wins Prestigious International 2012 Good Design Award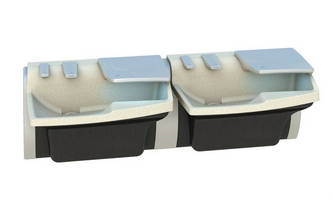 MENOMONEE FALLS, Wis. - The new and innovative "all in one" Advocate(TM) Lavatory System by commercial hand washing industry leader Bradley Corp., has received the prominent 2012 GOOD DESIGN(TM) Award presented by The Chicago Athenaeum: Museum of Architecture and Design in cooperation with the European Centre for Architecture Art Design and Urban Studies.

Bradley's unique Advocate(TM) AV-Series Lavatory System - the very first lavatory unit designed to provide a sink, soap, faucet and dual-sided hand dryer all in one sleek and touchless unit - is among nine winners selected for the 2012 GOOD DESIGN Industrial Category.

GOOD DESIGN is renowned as the world's most prestigious and oldest product design award program. Founded in 1950 in Chicago by architects Eero Saarinen, Charles and Ray Eames, and Edgar Kaufmann Jr., GOOD DESIGN recognizes outstanding new consumer products designed and manufactured in Europe, Asia, Africa, and North and South America.

In November 2012, the jury convened in New York and selected 700 product designs and graphics from over 38 countries worthy of the GOOD DESIGN Award for their Design Excellence. To make their selections, the jury reviewed applications submitted by thousands of manufacturers and design firms from over 48 countries around the world.

Some past and present GOOD DESIGN winners include: 3M, Apple, Audi, BMW, Electrolux, Hansgrohe, Herman Miller, HP, KitchenAid, Moen, Nokia, Starbucks, SC Johnson, SubZero, Tupperware, VitrA and Whirlpool. For more information and a complete listing of 2012 winners, visit http://chi-athenaeum.org/.

Advocating a completely touchless hand washing experience

Having soap, water and hand dryer all within immediate reach, the award-winning Advocate Lavatory System raises the bar for convenience, comfort and safety in commercial washrooms. Since all hand washing elements are close by, the user needn't move from the station in search of soap, towels or a hand dryer. In addition to user convenience and functionality, this uniquely integrated design ensures that water goes down the drain - not on the floor or down the walls.

To wash hands with the Advocate Lavatory System, users intuitively move their hands from left to right, beginning with a touchless soap dispenser, a touchless faucet, and finishing with a high-efficiency dual-sided hand dryer. In effect, Bradley's exclusive "all-in-one" design simplifies hand washing, while minimizing washroom cleaning and maintenance, and maximizing a safer restroom environment.

"Bradley is very excited to have won the prestigious 2012 GOOD DESIGN Award for the innovative Advocate Lavatory System. Many talented people have worked hard to bring our vision of a completely touchless hand washing fixture to reality, and receiving the GOOD DESIGN Award is a true validation of those efforts," said Jon Dommisse, director of global marketing and strategic development for Bradley. "Earning the GOOD DESIGN Award underscores Bradley's leadership in pioneering superior technologies that set new industry standards."

In 2012, the Advocate AV-Series Lavatory System has also won a Product Innovation Award from Architectural Products Magazine and a platinum-level ADEX Award from Design Journal.

For more than 90 years, Bradley Corporation has designed and manufactured commercial washfountains, and today is the industry's comprehensive source for plumbing fixtures, washroom accessories, restroom partitions, emergency fixtures and solid plastic lockers. Headquartered in Wisconsin, Bradley serves the commercial, industrial, health care, recreation, education, and corrections markets worldwide.

For more information, contact:
Bradley
Telephone: (800) Bradley
Fax: (262) 251-5817
www.bradleycorp.com.


More from Software