Boca Bearing Company Adds Sprayon, Krylon, & Triflow Lubricant Products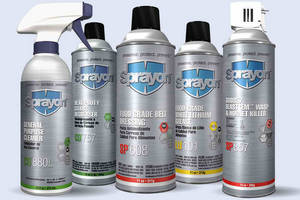 Boynton Beach, FL - The Boca Bearing Company is proud to announce the addition of the Sprayon, Krylon and Triflow product lines. This full line of lubricants, degreasers and maintenance products is now available from the company's new warehouse in Boynton Beach, FL. Covering a full range of specialty aerosol and pump nozzle products. The extensive number of Food Grade products is also ideally suited for many other sensitive manufacturing environments. http://www.bocabearings.com/bearing-lube-tools-more/sprayon-food-grade-lubrication.

Established in 1968, Sprayon has a long-standing leadership position in the chemicals and lubricants markets. Customers in a variety of end markets trust the Sprayon brand to deliver reliable, innovative solutions for the most demanding aerosol or bulk applications. The Sprayon line includes: Lubricants, Mold Release Agents & Maintenance, Electrical & Electronic Cleaners/Degreasers, Insulating Varnish & Enamel, Industrial Cleaners & Degreasers, Specialty Maintenance Products, Welding Supplies and Insecticides/Repellents.

Sprayon understands the needs of Food Processing customers, from frequent wash downs to the constant lubrication of bearings. Sprayon currently has over 100 solution solving products that have been reviewed and accepted by NSF International. The MRO chemical lubricant offerings are engineered to conform to the special needs of the food processing industry. Sprayon can help you reduce costs, maintain a healthy and safe work environment, maintain quality standards and increase efficiencies. Safety First, Performance follows!

The Boca Bearing Company is one of the most trusted names in lubrication as well as standard and ceramic bearings with the Lightning Bearing Technology (LBT) line of bearings. The reduction of rolling resistance and conservation of energy has been the company's hallmark since 1987. Boca Bearings never has a minimum order and is a one stop shop for everything from prototyping to production. Whether you are looking for affordability, longevity or high speed, Boca Bearings has just the bearing or lubrication for you. Wholesale discounts are available upon request.

More from Chemicals & Gases