BIG KAISER Moves Production of CAT50 Smart Damper for Milling to U.S., Expands Offering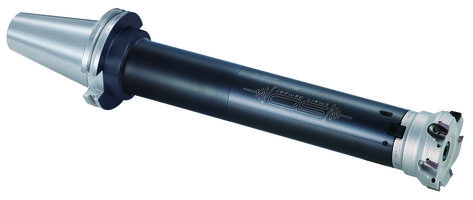 Hoffman Estates, IL – In order to offer more flexibility to customers, BIG KAISER, a global leader in high-performance tooling and systems for metalworking industries, has moved production of its CAT50 milling adapters to the U.S. The product performance and design will not change, but the move allows for more variation and faster delivery of special lengths for specific applications.
"The market has spoken," Alan Miller, engineering and product manager, said. "As awareness of Smart Damper has spread, more and more customers have asked for specials for their unique projects. This allows us to do more of that without the delay of coordinating with our partners overseas and additional shipping time."
With both a patented counter weight and friction damper, the Smart Damper is a dynamic damping system that eliminates vibration for higher productivity. It provides quiet, vibration-free milling with long projection tools, ultimately making it easier to achieve fine surface finishes and higher metal removal rates.
Smart Damper adapters are also available for turning and boring applications.
BIG KAISER is a worldwide leader in high-precision tooling systems and solutions for the metalcutting industry that guarantee extreme accuracy and repeatability. Our products are of the utmost quality — manufactured with materials and craftsmanship that enable superior performance. As a member of the BIG DAISHOWA Group (Osaka, Japan), BIG KAISER has grown into a well-recognized global tooling provider, with manufacturing facilities in North America, Switzerland and Japan. In addition, BIG KAISER is the North American representative of Speroni tool measuring machines, Sphinx high performance drills, mptec measuring stands, Tekusa spindle cleaners and the UNILOCK zero point work holding system by Innotool.
For more information, contact BIG KAISER, Hoffman Estates, IL, at 224-770-2999, e-mail bigkaiser@us.bigkaiser.com or visit www.bigkaiser.com.
Contact
Gillian Campbell
BIG KAISER
224-770-2920
gillian.campbell@us.bigkaiser.com
More from Fasteners & Hardware