Benefits of New Scale's Miniature M3-F Focus Modules Are Proven in Next-Generation Machine Vision, Biometric ID and Medical Systems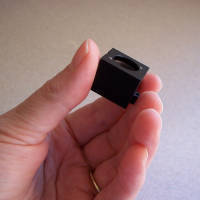 Precision piezoelectric lens motion modules are now in production in camera systems from leading OEMs in key markets; more than 50 additional OEMs have completed qualification of camera systems to begin production in 2011- 2012

Victor, NY - New Scale Technologies (newscaletech.com) today announced that its miniature M3-F focus module is currently in production in commercial camera systems for biometric identification, medical devices and various machine vision applications by leading OEMs in these markets. More than 50 OEM additional customers have completed qualification of the M3-F focus module in vision systems that are slated to go into volume production over the next six months. New Scale and its OEM customers worked closely with precision lens manufacturer Sunex (www.sunex.com) on a large number of these projects for help with lens specification and optical system design.

"The ability to adjust focus using software is increasingly a high-priority feature in compact cameras for applications requiring high image quality along with fast and automatic image capture, such as biometric detection and medical devices," said David Simpson, vice president of marketing and sales for New Scale. "The widespread adoption of the M3-F is validation of its performance advantage and the ease with which it can be integrated into OEM board camera systems."

In biometric identification, the M3-F focus module improves usability by enabling image capture over a greater depth of field, typically about one inch to infinity depending on the lens. This makes it easier to position the eye in front of a biometric ID camera and results in a more accurate iris, face or fingerprint match with less time and effort on the part of the user.

In medical diagnostic systems, the M3-F focus module enables faster and more accurate sample analysis and alleviates the need for highly meticulous sample positioning. It also improves usability of medical devices such as endoscopic imaging by reducing the amount of time required to align the scope.

The M3-F also adds flexibility to machine vision systems, allowing them to image a wider variety parts without regard to their exact distance from the camera, and to image parts that have significant variations in depth.

With a footprint of 20 x 22 mm, a height of 16 mm and no external control board, the M3-F easily replaces fixed lens holders over CCD or CMOS image sensors without adding to the camera size. It is compatible with image sensors up to 17x17 mm, including the 1/2" and 1/1.8" formats.

The M3-F accepts high-quality glass or polymer lenses, which have greater transmission and clarity than non-traditional composite lenses of liquid or liquid crystal. It accepts standard threaded lens assemblies from M8 to M12 in size and up to 5 grams in weight.

The M3-F moves lenses with 0.5 micron position resolution and very low tip/tilt, keeping the image focused on the center of the image sensor. The embedded closed-loop drive delivers high repeatability, low temperature dependence and no hysteresis.

Data sheets, developer's kits and pricing

M3-F developer's kit details and specifications are at newscaletech.com/M3-F.html.

Developer's kits are priced from $750 and are available online from New Scale at shop.newscaletech.com/productcart/pc/viewPrd.asp?idcategory=13&idproduct=21
and DigiKey at search.digikey.com/scripts/DkSearch/dksus.dll?Detail&name=DK-M3F-1.8-TRK-1.5-S-ND

For more information on the M3-F in camera systems, download the application note M3-F focus modules in camera system design at http://newscaletech.com/app_notes/AF-modules-customizable.html

About New Scale Technologies, Inc.

New Scale Technologies (newscaletech.com) is an innovation and micro-manufacturing company delivering ingeniously small motion systems. We serve worldwide markets for mobile products, medical devices, defense and security systems and industrial instruments. Every day our creative engineers and scientists use their deep understanding of micro-mechatronic technologies to solve the most demanding customer problems. We combine our talents with the capabilities of our global strategic partners, to provide "best in class" integrated circuits, ceramic components and high-volume manufacturing. Through direct customer engagements, continuous innovation and strategic partnerships, we deliver disruptively small, precise and low-power motion systems that enable our customers to create smaller feature-rich products.

New Scale produces M3 micro-mechatronic modules and custom motion systems using innovative technology such as the patented UTAF(TM) and SQUIGGLE® micro motors, piezo motor drivers, position sensors and more. Applications include micro cameras for mobile phone, medical, military and industrial applications; portable drug delivery and implantable medical devices; endoscopes; precision tuning devices; electronic locks; UAV controls; precision optics and photonic control systems; and cryogenic and MRI-compatible instrumentation.

SQUIGGLE is a registered trademark and UTAF is a trademark of New Scale Technologies, Inc.


More from Electronic Components & Devices