Beat the Heat with a Portable Air Cooler Fan Now Being Offered by Southland Equipment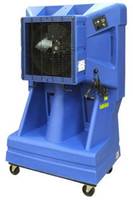 These Portable Evaporative Coolers have large internal water reservoirs that allow units to operate approximately 8 hours without being connected to an external water source.
Water is supplied to the internal tank from a standard 3/4" water hose or from optional water tank. Water level in internal tank controlled by the unit's float valve.
Maintenance free submersible water pump. 8" thick evaporative media easily accessible for routine maintenance. Roto-molded corrosion free polyethylene housing.
20 foot long, 16 ga. 3 conductor cord with GFCI plug. Thermally protected, permanently lubricated fan motor. Variable 3 speed.
Weather tight fan and pump control switches.
4" heavy duty casters; 2 locking, 2 non-locking.
ETL listed.
Heavy Duty Portable Evaporator Cooler
Model      PDFs   Blade Size  Motor HP   Unit Amps   CFM        Effective Sq. Ft.      Internal H20 Tank        Overall Size (WxLxH)       Wt. (lbs)
STS-EVAP-16        16"                1/2              4.6    2500/3300/3900     900                        42 gal.                  38"x23"x59"                      145
STS-EVAP-36        36"                1/2              11.2   4800/6600/9600     2500                      32 gal.                   62"x32"x67"                     245
STS-EVAP48        48"                    1               12     11000/22000          4000                       40 gal.                   74'x36"x86"                     405
Contact: Henry W. Richardson
V.P. Marketing
Southland Equipment Service, Inc.
Office: 803-783-1171
Cell: 803-309-5217
Fax: 803-783-2557
More from HVAC