Bear Begins Production of Second-Generation Custom Medical Power Supply for Leading Surgical Instrument Manufacturer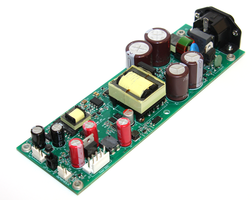 New design for 75 Watt AC-DC converter with CF-rated and BF-rated outputs features higher efficiency, 20% lower costs
Phelps, NY – June 25, 2019 – Bear Power Supplies (www.bearpwr.com) has begun production of a second-generation dual-output medical AC-DC converter that it designed for a leading global producer of medical instruments.
Bear Power Supplies' US-based contract electronics design team developed the second-generation power supply to increase efficiency and deliver a 20% reduction in manufacturing costs. It is a drop-in replacement for the first-generation power supply. The customer will also use it to replace commercial off-the-shelf (COTS) power supplies in several other of its medical systems.
Bear designed and has manufactured the first generation of this custom medical power supply at its USA contract manufacturing center, located near Rochester, New York.
"Our customer has recognized the clear performance and cost advantages of a custom Bear medical power supply over standard commercial power supplies," said Michal Allen, President of Bear Power Supplies. "With the use of this second-generation design across more of their product line, they have approximately doubled their production volume with us." 
The 75 Watt medical power supply has universal input and two outputs. The CF-rated output features an ultra-low capacitance of less than 15 pF, and can be switched off when not needed. The BF-rated output remains active to supply electronics used in the vicinity of a patient.
About BEAR Power Supplies
Bear Power Supplies designs, manufactures and sells power supplies for commercial, industrial, and medical equipment. Products include rugged, encapsulated AC/DC and DC/DC power converters and full-custom power supplies to meet OEM designers' most difficult requirements. Capabilities range from fast-turn prototypes to high volume production. The company's ISO 9001:2015 certified headquarters, design and manufacturing center is located near Rochester, New York. Bear Power Supplies is a business unit of Z-AXIS, Inc.