Aven OptiVue LED Magnifying Desk Lamp: Convenient, Compact, and Versatile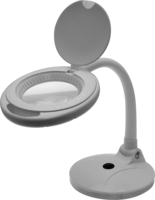 Aven's OptiVue LED Magnification Desk Lamp is designed to add style to any workspace while delivering high-performance functions and flexibility. The lamp offers shadow-free illumination with 36 SMD LEDs that have a minimum life span of 20,000 hours. The crystal clear 4-inch, 5-diopter round glass lens provides 2.25x magnification and is easy to replace.
The OptiVue Desk Lamp stays in place in any position thanks to an 11-inch bendable gooseneck arm, and the built-in handle and swivel head add extra flexibility. The budge-proof weighted base adds stability and is highlighted with a decorative silver ring. A lens cover protects the lens when lamp is not in use.
For more information, call (734) 973-0099, view Aven's OptiVue LED Magnifying Desk Lamp video.
Aven OptiVue LED Magnifying Desk Lamp Aven now provides a 3-year warranty on all magnification lamps. For full warranty disclosures, please visit http://aveninc.com/warranty/
Aven, Inc. manufactures and distributes high-performance, optical instruments and precision tools for microscopy, inspection and assembly.
A technology innovator since 1983, Aven is located in a high-tech corridor of Southeast Michigan.
Contact:
Mike Shahpurwala
734.973-0099
More from Material Handling & Storage