Aven Offers Broadest Array of Stainless Steel Pliers, Cutters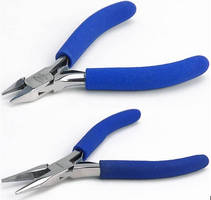 ANN ARBOR, MI - Aven, Inc. is earning recognition in varied industries as a supplier with the widest range of stainless steel pliers and wire cutters. The Michigan manufacturer and global distributor offers four dozen rust-proof models with varied jaws, heads, blades and noses.

The company's goal, executives say, is supply chain convenience for assembly and maintenance users in electronics, aerospace, telecommunications, biotechnology, health care and other industries relying on stainless steel equipment to preserve environmental integrity, quality control and regulatory compliance.

"Lean-stream manufacturing applies to shop tools as well as raw materials," says Mike Shahpurwala, president of the precision tools company. "Single sourcing adds procurement efficiency that helps customers control costs and workflow for staffs that are reduced in some cases."

Aven's purpose-designed stainless steel tools include 27 pliers and 20 cutters, all with dual leaf springs for smooth, consistent action. All cutters have induction-hardened edges.

Ergonomic Styling

Fifteen tools in an Ergo line have a non-reflective black finish and gracefully contoured handles to assure comfort. A larger Technik line features a medical-grade finish of highly polished steel, box joint construction and foam-padded grips that are ESD safe.

Applications include forming, bending, precision assembly, machine maintenance and wire harness manufacturing.

In addition to 13 chain nose pliers in multiple sizes, other models have flat, round, needle, bent or curved noses with different head dimensions and jaws (smooth or serrated). Specialty items include a six-inch curved needle-nose pliers and a long-nose pliers with serrated cutting blades.

Among soft wire cutters are eight with oval heads and seven that are tapered. Alternate versions are tip, end and oblique cutters. Most are available as flush-cut or semi-flush models. Choices include a tapered relieved head cutter and a mini-oval head model.

"Feedback from the field confirms that users appreciate one-stop access to a full line of reliable, value-priced stainless steel hand tools," according to Shahpurwala, president of the 27-year-old firm based in a high-tech corridor of Ann Arbor, Mich. "Aven's ability to supply virtually any task-matched hand tool simplifies purchasing."

Corrosion-resistant stainless steel hand tools are a best-practice standard to reduce process contamination risks from rust. General industrial carbon steel tools shouldn't be used where sterility is critical.

For more information, call Aven at (734) 973-0099. A digital catalog is at www.aveninc.com.

Visit Aven at Booth 2977 of the Medical Design & Manufacturing (MD&M) exposition in Anaheim, Calif., from Feb. 8-10, 2011.

Aven, Inc. manufactures and distributes high-performance precision tools and optical systems for industrial, scientific, research and education applications. More than 750 products include video inspection systems, integrated portable microscopes, video borescopes, task lights, stainless steel tools for lab use and precision hand tools such as tweezers, pliers, cutters, screwdrivers, crimpers, knives and alignment tools. Brands include Mighty Scope, iLoupe, iVue, Accu-Cut and Athlet.

An electronics innovator since 1983, Aven is located in a high-tech corridor of Southeast Michigan and is the parent company of SharpVue, which designs and manufactures integrated digital microscope technology.

More from Agricultural & Farming Products