Aven Mighty Cam HDMI Color Camera: Measurement Ease with Built-In Software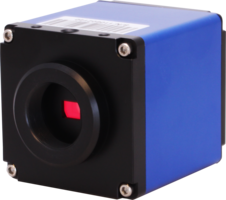 Aven's sophisticated Mighty Cam HDMI Color Camera has integrated measurement software and an SD card, allowing precise quality control inspection without a computer. By eliminating outside software or a laptop for image processing, the Aven HDMI Color Camera reduces workbench space, avoids software installation or updating, and removes compatibility concerns. Engineers, inspectors and research technicians simply need a monitor, as the camera's HDMI port allows a direct link. Users can save five sets of measurement data on the SD card, which simplifies comparisons and record-keeping.
Features also include a calibration scale, crosshair grid for quick gauging, edge detection and individual RGB contrast adjustments. The advanced software detects gray scale gradations and can measure a line, circle, radius, angle and parallel lines in millimeters or inches. Video is captured at 30 frames per second on the built-in 4G memory card. Freeze-frame capability yields crisp, high-resolution images without motion blur. White balance and exposure can be automatic or one-click mouse functions.
For more information, call Aven at (734) 973-0099 or click on the link below: Aven Mighty Cam HDMI Color Camera
Aven, Inc. manufactures and distributes high-performance, optical instruments and precision tools for microscopy, inspection and assembly.
A technology innovator since 1983, Aven is located in a high-tech corridor of Southeast Michigan.
Aven, Inc.
4330 Varsity Dr.
Ann Arbor, MI 48108
734-973-0099
Contact:
Mike Shahpurwala
734-973-0099
More from Adhesives & Sealants