Aven Mighty Cam Eidos 2M Inspection Camera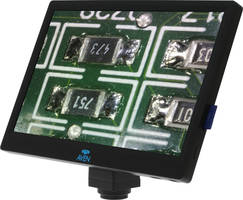 Aven Mighty Cam Eidos 2M Inspection Camera with Integrated 11.6" HD Monitor is a convenient 2-in-1 camera and monitor system. The Eidos connects to any C/CS mount microscope or video lens. This system features crisp, high resolution, 1080p, HD images on a 11.6" LCD monitor. The tiltable axis allows the user to position the monitor back up to a 90-degree angle. The system includes a built-in SD card reader for instant image and video capture. It also features a USB output for PC connectivity for imaging and measurement software. This system is compatible with Aven's EZ Measure Software. The wireless mouse, included, gives convenient access to the settings menu. The settings menu includes, grid overlays, compare mode, freeze mode, mirror mode, exposure, white balance, brightness, image/video preview, and more.
Aven's Eidos system was designed for the operator's convenience and ease of use. Avoid the eye strain and neck fatigue associated with frequent microscope use, with the accessible Mighty Cam Eidos Integrated Camera and Monitor Inspection System.
View high resolution, 1080p, full HD imaging at a max frame rate of 60FPS.
The Mighty Cam Eidos is compatible with any C/CS mount microscope or video lens.
For more information, call (734) 973-0099 or click on link below:
Aven Mighty Cam Eidos 26100-260: http://www.aventools.com/product/mighty-cam-eidos-2m-camera-with-integrated-11-6-hd-monitor/
Aven, Inc. manufactures and distributes high-performance optical instruments and precision tools for microscopy, inspection and assembly.
A technology innovator since 1983, Aven is located in a high-tech corridor of Southeast Michigan.
Aven, Inc.
4330 Varsity Drive
Ann Arbor, MI 48108
CONTACT:
Mike Shahpurwala
734.973-0099
More from Material Handling & Storage