Autotex AM Brings Exceptional Cleanliness Levels to AM(TM) Sensor Line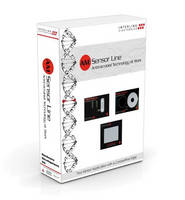 MacDermid Autotype Ltd has provided the ideal antimicrobial film for AM™ Sensor Line, an enhanced range of force, position and mouse pointing sensors from Interlink Electronics Inc.  Autotex® AM, a high specification antimicrobial film, has enabled Interlink Electronics to achieve an exceptional level of cleanliness in its AM™ Sensor Line products, resulting in an innovative product range that stands apart from its competition.



Interlink Electronics is one of the world's leading innovators of human-machine interface design serving a global customer base.  With growing evidence from a number of studies that everyday objects and surfaces can support bacteria that can cause odors and stains, Interlink Electronics wanted to design a range of force, position and mouse pointing sensors that would provide the best possible antimicrobial protection for applications where cleanliness is critical. 



Interlink Electronics required a solution for the three individual AM™ Sensor Line products: VersaPad®, a touchpad solution that can be used with a finger, stylus or glove; The Force Sensing Linear Potentiometer (FSLP) Sensor, a solution for capturing position and force simultaneously in compact applications; and the Ring Sensor, which is used for capturing the rotary position in, for example, medical equipment.  For all of these solutions a robust, resilient antimicrobial surface was critical so Interlink Electronics turned to MacDermid Autotype for a solution.



Declan Flannery, Chief Operating Officer of Interlink Electronics explained how the corporation went about researching and testing the best materials for this product and why they chose the MacDermid Autotype film Autotex® AM.  "Our previous experience with MacDermid Autotype led us to Autotex® AM" Declan explained.  "We compared it with other products on the market, but the ease of introducing this value added feature on our existing products meant it was the obvious choice.  Also, our previous experience with Autotex® meant we did not have to go through extensive requalification of the material.  We only needed to review the antimicrobial properties which reduced the time for product introduction."



Autotex® AM is a unique hard coated antimicrobial film incorporating Microban® antimicrobial protection.  The Microban® technology is incorporated into the Autotex® AM textured hard coat during the manufacturing process.  This process ensures even distribution of the antimicrobial agent throughout the textured hard coat on the film surface that lasts the lifetime of the film.  The film's durable textured surface is resistant to physical and chemical damage, enabling it to withstand everyday use and the aggressive cleaning necessary in medical environments, while the ability to reverse print a wide range of inks onto the film allows high quality graphics and attractive finishes to be achieved.  Microban® protection inhibits the growth of stain and odor causing bacteria, mold and mildew. (Microban® protection is not a substitute for proper cleaning practices and does not protect user from disease carrying organisms).



Autotex® AM not only provided an exceptionally high level of hygiene for AM™ Sensor Line, it also enabled a smoother, more efficient production process for Interlink Electronics.  "Autotex® AM is very well matched to our manufacturing practices," Declan Flannery added.  "The thermal stability and handling characteristics of Autotex® AM are well suited to our screen printing process."



Through Autotex® AM, the touchable surfaces of the AM™ Sensor Line inhibit the growth of microbes on contact, working continuously to maintain a consistently lower bio-burden than would be expected on a product without antimicrobial protection.  Autotex® AM has provided AM™ Sensor Line with constant and dependable antimicrobial product protection that lasts for the lifetime of the products.



With Autotex® AM an integral part of each product, the AM™ Sensor Line range offers users a competitive advantage in a world that focuses on cleanliness.  "The product range has only just been launched but already we have seen strong interest from our existing customers," Declan Flannery said.  "A key element of this success was the use of Autotex® AM.  We have established a relationship with MacDermid Autotype over many years and they continue to provide exceptional customer service, technical support and continue to introduce innovative products that all help Interlink Electronics to provide the best sensor products on the market."

More from Electronic Components & Devices