Transaction Processing Systems
Automated Folder/Inserters Speed and Simplify Business Mailings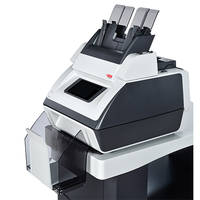 WABASH, IN — Intimus TSI Series folder/inserters are ideal for small business mail rooms, small to medium size print/mail shops, and large corporate invoicing/mailing operations. Not only do they speed and simplify mailing operations for businesses like medical facilities, schools & universities, financial institutions, government offices, and charities, their intuitive controls and preprogrammed operations make setting up and running jobs so easy that any employee or volunteer can do it.
Three models are available, and each can be specified in multiple configurations to best suit the specific application requirements. All systems feature large, full-color touchscreen, wizard-based control panels and can store multiple job programs.
The Intimus TSI-2.5 S can fold, insert, and seal and is designed for smaller organizations with mailing requirements up to about 4000 envelopes per month. The TSI-2.5 S document feeder can accommodate both letter and legal size documents as well as inserts and business reply envelopes. It is capable of collating and folding 2 sheets, inserting them plus one insert or reply envelope, and sealing the mailing envelope at a rate of 22 pieces per minute. With the optional Tri-Fold Kit, the TSI-2 S can precisely C-fold documents or marketing materials with perfectly even panels.
Designed for medium- to high-volume applications, the Intimus TSI-4S is capable of processing up to 25,000 pieces per month at rates to 2500 pieces per hour. It is available in 4 configurations with 1, 1.5, 2, or 2.5 feed stations. It boasts a capacity of 325 sheets per feeder and an envelope capacity of 150. The TSI-4S is capable of letter, single fold, double fold, and Z-fold, as well as no fold.
For high-volume in-house mailings or commercial print shops/mailing houses, the TSI-5 Mail Processor is the unit of choice. It offers multiple sheet feeding trays, an envelope stacker, and exit tray options that allow customization of your mailing needs. Capable of processing up to 40,000 pieces per month at rates of 3800 pieces per hour, it can produce letter, single fold, double fold, and Z-fold, as well as no fold. It can trifold up to 8 sheets and half-fold up to 10 sheets. It can also scan and read a variety of barcodes and other coding and can store up to 50 job programs.
For more information, contact Tyler Page, Intimus International, 251 Wedcor Avenue, Wabash, IN 46992,
Toll-Free: (800) 775-2122, www.intimus.com
For: Intimus International
251 Wedcor Avenue
Wabash, IN 46992
Contact: Tyler Page
TEL: (800) 775-2122
From: Norris & Company
198 S. Meadow Road
Plymouth, MA 02360
Contact: James T. Norris, President
TEL: (508) 510-5626
More from Communication Systems & Equipment