ATLANTA Drive Systems to Showcase Their New Rack & Pinion Products at FabTech 2013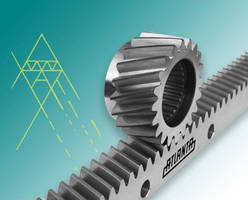 ATLANTA Drive Systems, Inc. will showcase their new Rack & Pinion Products during FabTech 2013 at McCormick Place in Chicago, November 18 – 21, 2013.  They will be located in booth N317, where visitors can view a new, live demonstration of ATLANTA's rack & pinion drive systems and learn how their vast product range can be used to address and solve any application requirements presented.



Further expanding their hardened & ground rack range, ATLANTA has added DIN 7 and 8 quality levels to provide more competitive price points to meet customer's accuracy needs.  The new StrongLine DIN 5 hardened & ground gear racks utilizes an innovative carburized case-hardening process to increase the strength of the rack, including the tooth flanks and root, which maximizes its power density, stiffness and performance.



ATLANTA has the widest standard range of rack and pinions in the World, consisting of both helical & straight (spur) tooth versions, in an assortment of sizes (module 1.0 to 12.0), materials and quality levels (DIN 4 to 10, AGMA 8 to 12+).  With their vast inventory, most rack & pinions are available from stock for just in time deliveries.



For more information, contact ATLANTA Drive Systems at:  (800) 505-1715, or on the web at:  www.atlantadrives.com.

More from Fasteners & Hardware