Appleton Cable Glands Now Feature Electroless Nickel Plating for Superior Corrosion Resistance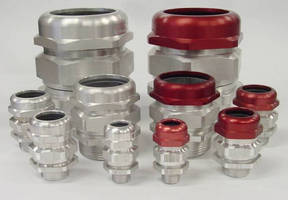 ROSEMONT, IL -- Appleton announced today that it has upgraded the protective finish on its cable glands with new electroless nickel plating for superior corrosion-resistance in harsh industrial environments.

Due to its high hardness, electroless nickel plating enhances the life of cable glands exposed to severe conditions of service, particularly in the oil field and marine sectors. Parts undergoing electroless nickel plating will in many cases perform much like stainless steel.

In addition to corrosion resistance, advantages of the new finish include:

Wear resistance to protect against galling

Lubricity

Uniformity of deposit regardless of geometries - extremely important for flameproof/explosionproof threads

Stable thickness control

Nonmagnetic properties of high-phosphorus nickel alloy.

Appleton cable glands are used to attach ends of electrical cable to equipment in a variety of applications worldwide. In addition to strain relief, the cable glands may provide water-tight sealing of the enclosure entry.

For more information, visit www.appletonelec.com.

About Appleton
For over 100 years, Appleton has designed and manufactured a wide range of innovative electrical products for both hazardous and non-hazardous locations. The Appleton name appears on more than 20,000 electrical products used in almost every phase and type of construction. Today, Appleton is a brand of Emerson Industrial Automation.

More from Material Handling & Storage