Amerex Increases Productivity with Wheelabrator System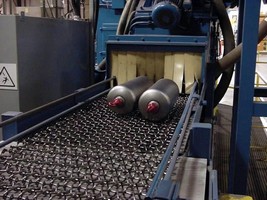 Amerex is a fire extinguisher manufacturer that is both ISO 9001:2000 and ISO 14001:2004 industry certified. Located in Trussville, Ala., the company needed to find a faster means of blast cleaning in order to meet the demands for increased production on popular extinguisher cylinder sizes.

To meet this increase in production, Amerex called on Wheelabrator for its surface preparation needs. A new 27" MaxMesh(TM) Belt System allowed Amerex to prepare the surface of more fire extinguishers faster while using a variable speed blast wheel for different finishing capabilities.

The Wheelabrator® machine prepares two of the new extinguishers side-by-side for powder coating during one run through the blast cabinet. Utilizing small steel shot to prep the external surface and clean welds on the cylinders, it created the profile needed for the coating process. Featuring four, 15hp, variable speed blast wheels with TargetLok® control cage positioning, the machine was designed to clean cylinders at line speeds up to 12 feet a minute.

The variable speed blast wheels provide the optimum abrasive velocity for various surface finish requirements. The wheel motor speed is 3600 rpm and can be reduced from the operator's panel to provide the desired velocity. The machine's cast wheel housing includes in line liners, and doesn't require side liners. A direct drive flange mounted motor allows for much easier maintenance because no alignment is required.

The blast media is recovered and recycled with a full reclaim system consisting of a spill hopper, screw conveyor, bucket elevator and airwash separator. Cylinders are manually loaded onto the mesh belt. Locating the blast machine in-line with the existing coating system allows the operator to hang the clean cylinders onto the monorail feeding the powder coating system. The powder paint is applied dry and baked onto the cylinders.

Before purchasing the MaxMesh Belt System, Amerex was initially pleased with the wire mesh blaster after the new line of extinguishers were cleaned at the Wheelabrator Testing and Demonstration Facility in LaGrange, Ga. "The testing in LaGrange was an essential factor in determining the cycle time, cleaning coverage and process details necessary to justify an improved cleaning process," said Charlie Burke, Industrial Engineering Manager at Amerex. "The MaxMesh Belt System proved to be a very flexible machine. We increased the variety of fire extinguisher cylinders and hardware cleaned prior to powder coating. All of the Wheelabrator people were easy to work with and very detailed during the construction and successful installation of our machine."

In addition to the wire mesh blast machine, Amerex continues to use a Spinner Hanger Machine to prepare the surface of other types of fire extinguishers prior to finishing.

The Wheelabrator MaxMesh Belt System is designed with versatility in mind and can accommodate a variety of parts with hard-to-reach places, such as fire extinguishers. The blast wheels are oriented to achieve maximum surface preparation exposure and coverage over the entire exposed surface of the part.

Wheelabrator Plus, which is the parts, equipment modernization and service division of the Wheelabrator Group, helps customers improve the efficiency of their existing blast equipment operations. Focusing solely on the aftermarket, Wheelabrator Plus works with all customers to provide effective solutions for difficult cleaning problems. Wheelabrator Plus regionally based sales and service teams provide an extensive range of Equipment Modernization Programs (EMP) and support services including: on-site training, maintenance, repair and service programs. Wheelabrator Plus offers a complete range of replacement parts for a variety of wheel blast and air blasting applications. For more information on EZEFIT wheels, call 1-800-845-8508.

Wheelabrator Group is a global provider of surface preparation and finishing solutions. Committed to offering the broadest array of technologies, products, services and technical know-how, Wheelabrator Group works closely with customers to deliver the best solutions for their specific requirements. The company's strategically located and electronically linked offices allow Wheelabrator Group to provide unrivalled customer service and support worldwide. For more information on Wheelabrator visit the web site at www.wheelabratorgroup.com or e-mail info@wheelabratorgroup.com.


More from Cleaning Products & Equipment